Age: Grade(s)
1, 2, 3, 4, 5, 6, 7, 8, 9, Kindergarten
Subjects:
Environmental Problems
Duration:
at least one period of 30 to 45 minutes
Objectives
Students will:
examine connections between themselves, climate change, and nature;
consolidate knowledge acquired through preceding activities;
gain deeper insight into responsible human actions in relation to climate change; and
explore their own feelings concerning the issues addressed thus far.
Method
Using picture cards, students play a variety of non-competitive games that explore the connections between human actions, climate change, and positive and negative impacts on wildlife habitat.
Materials
one or more sets of 27 activity cards
Background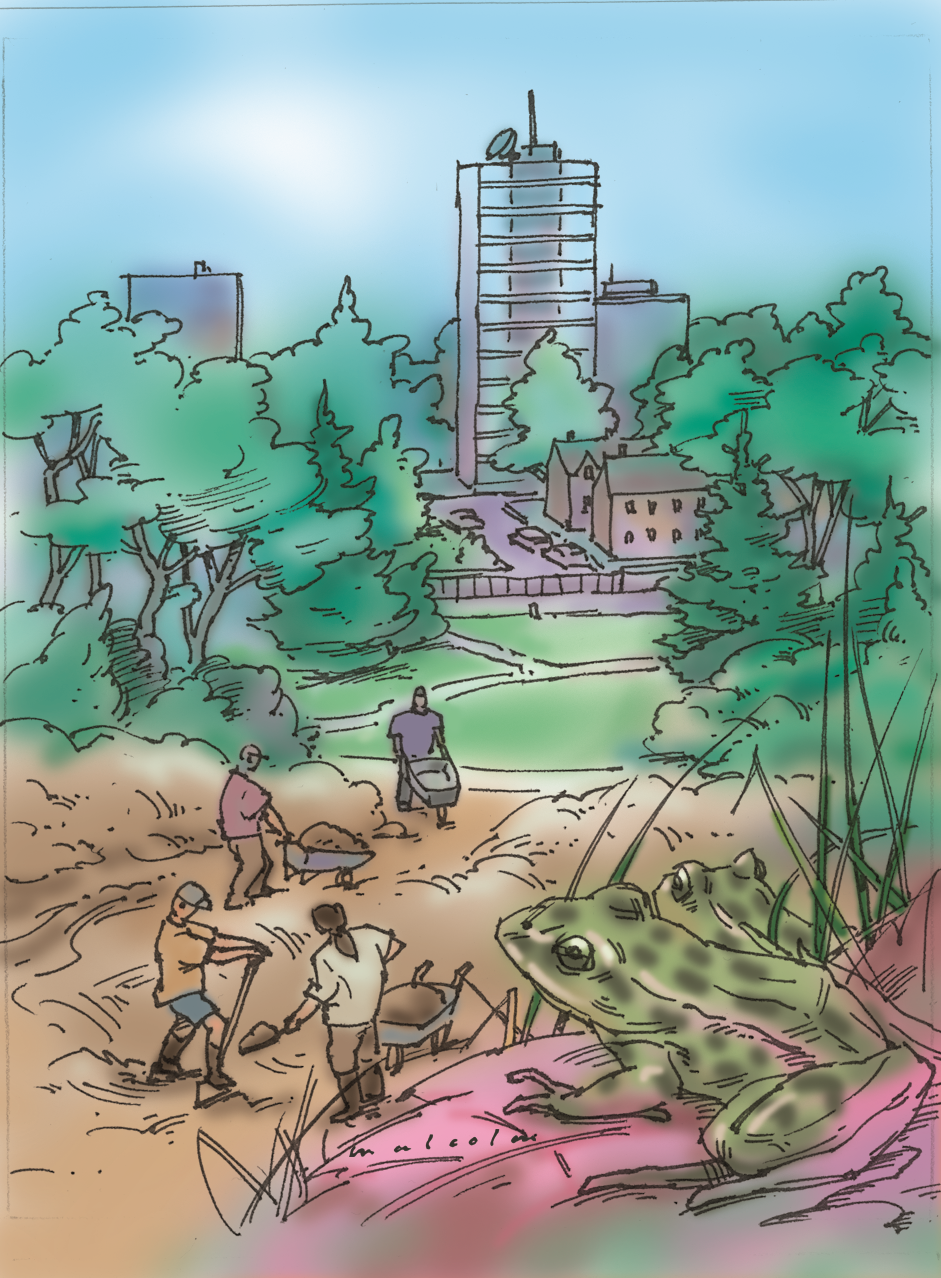 Climate Connections is a noncompetitive, open-ended exercise designed to consolidate student knowledge and evaluate learning from previous lessons. It employs a set of 27 cards . The cards depict numerous interactions between humans, wildlife, and habitat, with underlying messages about climate change. Their purpose is to prompt reactions, deepen insights, and stimulate creativity, while challenging students to find connections between human actions and changes in nature. As such, they can serve as a launching point for a wide range of games and activities, such as role-playing, storytelling, improvisation, and creative writing. The cards also lend themselves to invention and may inspire students to develop activities that suit their own interests and imaginations.
Procedure
Advise your students that, although the cards in Climate Connections depict specific situations, they may be interpreted in numerous ways. Before distributing the cards to groups, see that students agree not to:
compete but to cooperate with one another;
interrupt or challenge other speakers;
be constrained to literal interpretations but allow images to stand as symbols;
exceed a limit of four or five sentences or a minute's worth of speaking per turn.
Choose from among the following activities or invent your own:
Climate Cross-cultural Cafe: Each student assumes a role, such as a fisher, mariner, aboriginal person, or other cultural identity that may or may not be linked with the ocean. One player draws a card, lays it on the table, and describes the image from his or her culture's point of view. A second student describes the same image from another perspective, followed by the other players at the table. The point is to role-play a culturally mixed group of individuals that have paused for lunch in the same cafe. Inspired by the images on the cards, the students converse and question one another on the subject of climate change as it relates to their way of life and links with the sea.
Climate Counterpoint: Students work in pairs. The first draws a card, places it face up on the table, and describes the image from the perspective of a plant or animal. The second student describes the same image from the point of view of a person. This exchange is followed by a role-playing dialogue in which both express their feelings about each other's opinions on climate change. Students reverse roles with each card played.
Climate Catchword: Players take turns drawing cards and discuss them as advertising images for a product, movement, or campaign related to climate change. Having decided what the ad will promote, each player improvises a slogan. The others guess what is being promoted.
Climate Chronology: Each student draws three cards, inspects them, arranges them in chronological order (not necessarily in the sequence drawn), and then develops a three-part story with a climate change message inspired by the images. The first card (symbolizing the past) may be introduced by a phrase such as "Once upon a time" or "Long ago." The second card (signifying the present) can be prefaced by "Nowadays" or "Today." The third card (representing the future) may be introduced by "Someday" or "Tomorrow." When the story is finished, other students ask questions for clarification.
Climate Chronicle: The first student draws a card, places it on the table, and begins a story inspired by the image. The second student draws another card, lays it next to the first, and describes it in connection with the story just begun. As each student proceeds in this manner, the cards become linked, and a story emerges. Played cards are arranged in a growing spiral until the final one is drawn or until the last student takes a turn.
Climate Canvas: Working individually or in small groups, students draw one card randomly from the deck and place it on a blank sheet of paper or canvas. Using coloured pencils, crayons, or paints, they extend one or more sides of the image to produce a larger work of art, which may inspire a poem, story, or song about climate change.
Climate Cantata: Students work in pairs, each drawing a card, and seek inspiration from the image to compose a song about climate change. Lyrics should pay tribute to habitats, ecosystems, or species affected by global warming, rising sea levels, droughts, floods, or other environmental impacts. Each song should include a chorus and melody. Students may perform their "climate cantatas" for the rest of the class.
Copyright Notice
© Canadian Wildlife Federation
All rights reserved. Web site content may be electronically copied or printed for classroom, personal and non-commercial use. All other users must receive written permission.