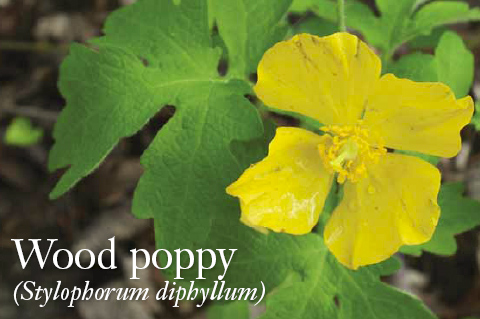 Scientific Name:
Stylophorum diphyllum
Other Common Names:
Celandine poppy, yellow poppy
Description:
The wood poppy stands up to 40 centimetres tall. The leaves are mainly basal and up to 15 cm long and 6 cm across with a paler underneath with five to seven deeply divided, irregular lobed or toothed segments. The flower is deep yellow with four petals each 2 to 5 cm long; occur in clusters of up to four, blooming in May and early June. The fruit is a greyish hairy seed pod capsule divided into three or four longitudinal segments. All parts have a bitter yellow sap.
Similar Species:
Pale poppy (Papaver alboroseum), Arctic poppy (P. radicatum)
Range:
In Canada, restricted to three small, fragmented sites near London in southwestern Ontario.
Habitat:
Carolinian forest
Behaviour:
The wood poppy is propogated by ants.
Primary Ecosystem Roles:
The wood poppy feeds bees and other pollinators, mice (seeds), whitetailed deer and other browsing mammals.
Threats and What You Can Do:
Threats to the Wood Poppy include invasive plants and trampling during recreational activities. If you see it consider yourself privileged to catch a glimpse of this imperilled species.
Notes:
This plant is listed as endangered by COSEWIC in 2000; plant and habitat protected under Ontario's Endangered Species Act.
Relatives of the wood poppy include the pale poppy (Papaver alboroseum), and the Arctic poppy (P. radicatum).
---