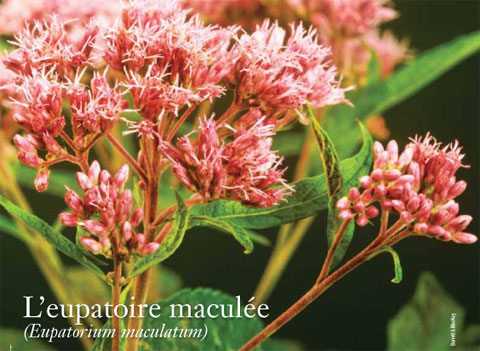 Scientific Name:
Eupatorium maculatum
Other Common Names:
Joe-pye weed, purple boneset, spotted trumpetweed
Description:
The Spotted Joe-pye weed stands between 60 centimetres and 1.8 metres tall. The leaves, which are six to 20 cm long, are also short-stalked, lanceolate, sharp-toothed and occur in whorls of three to five. The flowers are pinkish-purple tubular florets and occur in flat-topped clusters 10 to 14 cm wide. They can be seen in bloom from July to September. Their fruit are seed-like achenes with tuft of soft hair.
Range:
The Spotted Joe-pye weed is native to Canada and can be found in all provinces except Prince Edward Island.
Habitat:
You can find this plant in meadows, shorelines and damp thickets.
Primary Ecosystem Roles:
This plant feeds several species of butterfly including orange sulphur, pearl crescent, painted lady, giant swallowtail, tiger swallowtail, variegated fritillary, pearl crescent and red admiral.
Notes:
The relatives to the spotted joe-pyed weed include the hollow Joe-pye weed (E. fistulosum), common boneset (E. perfoliatum), and the sweet-scented Joe-pye weed (E. purpureum).
If you see it take time to appreciate its rough beauty and ability to stabilize stream banks, but keep an eye on this aggressive plant on your own property.
Folk accounts disagree on whether Joe Pye himself, who is said to have used the plant to treat typhus among early American colonists, was a European or belonged to a First Nation. The root was used to cleanse the system by increasing sweating and urination — it is still commonly used in homeopathic and herbal remedies.
---