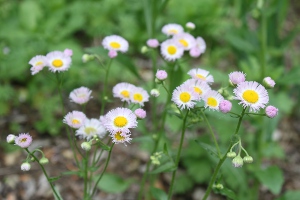 Scientific Name:
Erigeron philadelphicus
Other Common Names:
Common fleabane, daisy fleabane, common fleabane, marsh fleabane
Description:
The Philadelphia fleabane stands about 30 to 100 centimetres tall. Its leaves are lanceolate and hairy measuring 5 to 15 centimetres long. The flowers are clusters of pinkish, pale purple or white blossoms that can be seen in bloom from May to October. Each blossom is 1 to 2.5 centimetres across and has up to 400 narrow ray florets around a yellow centre.
Range:
Native to Canada, this plant can be seen in all provinces and territories except Nunavut.
Habitat:
Moist, often low-lying pastures, roadsides, waste areas, fields
Behaviour:
Philadelphia fleabane is propogated by seeds, stolons and basal offsets.
Primary Ecosystem Roles:
Deer browse on this plant; butterflies, bees and moths are attracted to its flowers.
Notes:
Relatives of Philadelphia fleabane include Canada fleabane (Erigeron canadensis), bitter fleabane (E. acris), cutleaf daisy (E. compositus), smooth fleabane (E. glabellus), low fleabane (E. humilis), prairie fleabane (E. strigosus)
If it's in a spot where you don't want it, don't feel bad about pulling it out since it spreads aggressively.
The common name for this group of plants comes from the practice of burning them so the smoke would keep fleas and other insects away. Oil from leaves and flowers was used in the past to control bleeding.
---