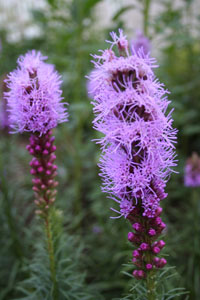 Other Common Names:
Blazing star or gayfeather
Description:
Liatris have a tall spike of summer blooms that are both soft to touch and in appearance. When in full bloom, some species have the appearance of a solid spire while others, such as Liatris ligulistylis, have blooms that are spaced enough apart to have a knobby look. Their long narrow leaves grow up along the stem in a circular fashion. Liatris suit planting in clumps.
Similar Species:
View other Liatris species below
Photo Gallery:
| | | |
| --- | --- | --- |
| | Photo by: Sarah Coulber | Photo by: Sarah Coulber |
Primary Ecosystem Roles:
The nectar and pollen from these plants are important sources for pollinators such as butterflies, bees and even hummingbirds.

If you let the blooms go to seed you will be providing much needed food for birds such as goldfinches.
---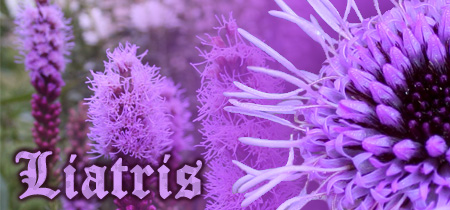 By Sarah Coulber
Canada is home to many beautiful native plants that are suitable for growing in a variety of gardens. One such plant is Liatris, also known as blazing star or gayfeather. With its tall plumes of purply pink flowers and feathery leaves, plants in the Liatris genus can grow in prairie meadows, formal beds and even containers. Several species, featured below, grace the Canadian Wildlife Federation's demonstration gardens.

Liatris are also one of the few native plants that are found in florists as cut flowers. We have used them at shows to add colour to our booths or to simulate a native plant garden. They have proved themselves as not only eye catching but also last long after the show has finished.


Propagation
Liatris aren't likely to spread, so if you want more in your garden, you may need to take the initiative and divide their tubers in the spring or fall. You can also grow them from seed. Collect seeds in the fall and plant in the ground right away. If this is not possible, keep the seeds and when ready to plant, put them in a resealable bag with either moist vermiculite or earth and store in the refrigerator for approximately 12 weeks. The seeds can then be planted in pots or in your garden when the weather is warm (around 20 C).

If you get it from a nursery, ensure it is not collected from the wild. Liatris spicata, for example, is considered threatened in Ontario.

Care

These plants are pretty easy to care for. The taller varieties may need staking although placing them at the back of a bed with robust plants in front may solve that problem. Giving them enough sun and suitable soil can help prevent flopping over.

Some Canadian Species

Liatris aspera – rough blazing star
Native to : southern Ont.
Habitat : They naturally grow in dry sandy areas in full sun but will tolerate partial sun
Appearance : They grow to 60-120cm. These hardy plants may flop over in rich soil.
Liatris ligulistylus – meadow blazing star
Native to : Alta., Sask, Man.
Habitat : They grow in dry to moist areas and like full sun
Appearance : They grow from 90-150cm
Liatris punctata – dotted blazing star
Native to : Alta., Sask., Man.
Habitat : Another prairie species that grows in dry conditions in full sun, but will handle moist conditions
Appearance : It has a deep taproot and is less suited to container gardening than the other species mentioned. It grows from 30-60cm
Liatris spicata – dense blazing star, spike gayfeather
Native to : southern Ont.
Habitat : This species grows in wet meadows and swampy areas and likes full sun but can take partial sun
Appearance : The most commonly available Liatris. It can handle regular garden soil and more moisture than the other species mentioned.
photos: Sarah Coulber