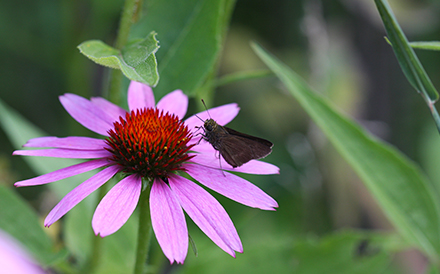 Scientific Name:
Echinacea angustifolia
Description:
Herbaceous perennial that can grow to 70 centimetres. Large pink flowers bloom atop hairy stems for several weeks in the summer. It has long narrow leaves, mainly at the base of the plant, that are covered in fine hairs.
Similar Species:
Echinacea pallida
(Pale Purple Coneflower) is native to Ontario. It is a bit taller than E. angustifolia and has narrower and paler petals.
Echinacea purpurea
(Purple Coneflower) is the species that is native to the American states south of Ontario and has naturalized itself in parts of Canada. It is also the species typically sold at nurseries. It is very similar but typically has larger petals, its stems and leaves have less or no hairs and has more leaves along the stem.
Photo Gallery:
(Please note — these photos are unverified images submitted by members of the CWF Photo Club.)

Range:
Manitoba, Saskatchewan
This species of Echinacea is native to Manitoba and Saskatchewan.
Habitat:
Narrow-leaved Purple Coneflower can be found in prairies, meadows and woodland edges. It grows well in full sun but will handle a bit of shade.
Primary Ecosystem Roles:
Wildlife Uses:
Echinacea flowers are a good food source for pollinators like flower flies, bees and butterflies. If you let them go to seed, they will remain on the stalk providing food in the winter for birds like juncos, finches and chickadees.
Human Uses:
Indigenous Peoples have used the roots of Echinacea to heal many conditions, like boosting the immune system and warding off colds and flu. It is now a widespread product commonly found in stores for this purpose.
---