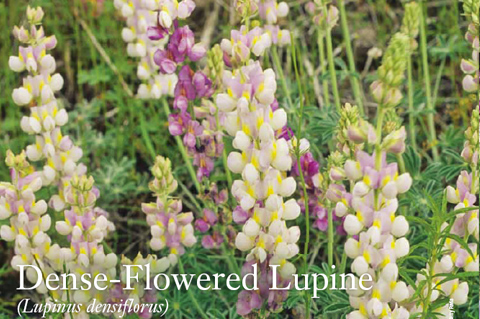 Scientific Name:
Lupinus densiflorus
Other Common Names:
Whitewhorl lupine
Description:
This plant can stand 20 to 30 centimetres tall with a stem that is hairy. The elliptical small leaves, which are smooth on top and hairy on the bottom, are usually in a group of 8 to 10 measuring 1.5 to 3 centimetres in length. They are attached to the stem by very hairy stalks. Each axis carries several pealike blooms which are white but can be tinged with pink or yellow colours and can be seen in bloom from May to October. This plant carries 2 centimetre long hairy egg-shaped pods that contain one or two brownish seeds which are 4 to 6 centimetres long.
Range:
This plant is native to Canada and occurs only in the area around Victoria, British Columbia
Habitat:
Partially eroded grassy banks, clay cliffs and grassy seashore areas; prefers southern or western exposure in coastal Douglas fir ecosystems
Primary Ecosystem Roles:
This plant is propogated by gravity disperal.
Threats and What You Can Do:
Habitat loss due to shoreline development; soil erosion; trampling during recreational activities; mowing, fertilizing and other landscaping practices; invasive species; oil spills.
If you see it keep it from being trampled or mown down.

Notes: Relatives of the the dense-flowered lupine include many members of the family Fabaceae, including Prairie lupine (L. lepidus), silvery lupine (L. argenteus), bigleaf lupine (L. polyphyllus).

Designated as endangered by the Committee on the Status of Endangered Wildlife in Canada (COSEWIC); red-listed as imperiled in B.C.; not yet legally protected.

Habitat loss has been so extensive that COSEWIC suggests just five per cent of sites that could have sustained populations of dense-flowered lupines at the turn of the 19th century could do so now.


---