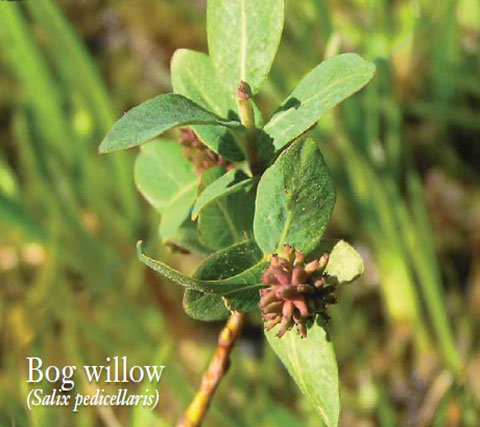 Scientific Name:
Salix pedicellaris
Description:
The bog willow enjoys a rich, wet bog like environment and the stem can grow from 50 to 150 centimetres tall. The leaves alternate, smooth, ovate to elliptic, two to five centimetres long, up to two cm wide, with green on top and bluish-green underneath. It carries green to brown catkins from May to June. This shrub has all male or all female catkins. This willow also has oval or pear-shaped capsules that contain woolly seeds in its two halves.
Range:
This plant is native to Canada and is found in every province and territory.
Habitat:
Rich, wet, bogs, swamps and fens
Primary Ecosystem Roles:
The bog willow is a pollinator plant and feeds butterflies and bees.
Status:
This plant species is not at risk.
Notes:
Relatives of the bog willow include many members of the willow family Salicaceae, including black willow (Salix nigra), pussy willow (S. discolor), Bebb's willow (S. bebbiana) and Arctic willow (S. arctophila).
The bog willow is not to be confused with Alaska bog willow, S. fuscescens. Used by some Ojibwa to treat stomach ailments.

---