By Tobi McIntyre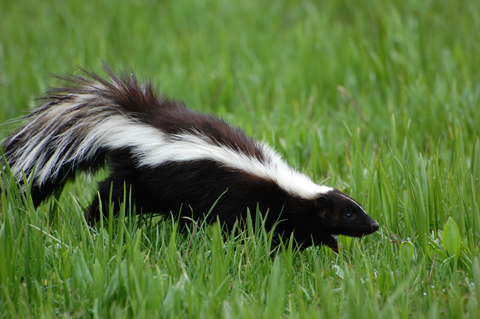 Despite its reputation, the striped skunk (Mephitis mephitis) is one of the most useful small mammals inhabiting Canada's mixed farmlands, grasslands and forests. About the size of a cat, this member of the weasel family helps control pests such as mice, grubs and larvae.
Striped Skunk Fact File
Scientific name: Mephitis mephitis
Average weight: 3.25 kg
Average length: 57.5 to 80 cm
Life span: up to three years in the wild and 15 years in captivity
Appearance: stout body, small head, short legs, bushy tail and thick, black, glossy fur. The thin white stripe down the centre of the face forks at the shoulders and continues as a white stripe along each side of the back. Tail is mostly black, but stripes may extend down it, usually to a tuft of white at the tip.
Range: central Mexico to Nunavut and the Northwest Territories; from the Maritimes to west-central British Columbia.
Did You Know?
Skunks are not aggressive, preferring to retreat from a human or other large enemy.
That distinctive scent comes from a thick, yellow, oily fluid or musk, secreted by two glands located on either side of the anus at the base of the tail.
Although its spray deters many predators, bobcats and some birds of prey will attack the striped skunk.
Skunks begin to awaken from their winter state of torpor by late February in more southerly parts of Canada, and are fully active by the end of March.
Striped skunks are truly omnivorous, eating a wide variety of foods including mice shrews, ground squirrels, young rabbits, birds' eggs and various plants.
Unlike many other animals, the striped skunk it has adapted well to the presence of humans and has expanded its range over time.