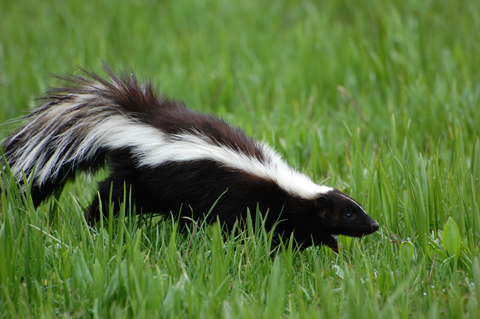 Scientific Name:
Mephitis mephitis
Description:
The striped skunk, a member of the weasel family, is about the size of a cat, but has a stout body, small head, short legs, bushy tail and thick, black, glossy fur. The thin white stripe down the centre of the face forks at the shoulders and continues as a white stripe along each side of the back. Tail is mostly black, but stripes may extend down it, usually to a tuft of white at the tip.
The skunk is one of the most useful small mammals inhabiting Canada's mixed farmlands, grasslands and forests because it helps control pests such as mice, grubs and larvae.
On average a skunk weighs 3.25 kilograms and is approximately 57.5 - 80 centimetres in length. In the wild a skunk is estimated to live 3 years but in captivity they can live up to 15 years.
Photo Gallery:
(Please note — these photos are unverified images submitted by members of the CWF Photo Club.)

Range:
Central Mexico to Nunavut and the Northwest Territories; from the Maritimes to west-central British Columbia.
Habitat:
The skunk prefers open areas of mixed forests and grasslands and has very little fear of humans, so it has benefited from the new habitats created by the opening of the forests that accompanied settlement and agriculture.
Skunks generally live in the abandoned dens of woodchucks, foxes, or other mammals of similar or larger size and only occasionally excavate their own dens. They will also use stumps, rock piles, or refuse heaps, or will even set up housekeeping under a house or porch or in a cellar. The latter practice is especially common in farming areas.
Diet:
Skunks are truly omnivorous, eating a wide variety of foods. They eat insects, mice, shrews, ground squirrels, young rabbits, birds' eggs, and various plants. During the autumn and winter they eat about equal amounts of plant and animal foods, but eat mainly insects in the summer. Skunks are especially fond of grasshoppers, crickets, and insect larvae such as white grubs, army worms, and cutworms.
Behaviour:
Skunks begin to breed in late February or March, when they emerge from their dens, and the young are usually born in early May. There are typically four to six young in a litter, although the number may vary from two to 16.

When the young skunks are approximately seven weeks old the female takes them out to search for food, and at about two months they are weaned, or have made the transition from the mother's milk to other foods.
More on this Species:
References:
Hinterland Who's Who
---
Did You Know?
Skunks are not aggressive, preferring to retreat from a human or other large enemy.
That distinctive scent comes from a thick, yellow, oily fluid or musk, secreted by two glands located on either side of the anus at the base of the tail.
Although its spray deters many predators, bobcats and some birds of prey will attack the striped skunk.
Skunks begin to awaken from their winter state of torpor by late February in more southerly parts of Canada, and are fully active by the end of March.
Striped skunks are truly omnivorous, eating a wide variety of foods including mice shrews, ground squirrels, young rabbits, birds' eggs and various plants.
Unlike many other animals, the striped skunk it has adapted well to the presence of humans and has expanded its range over time.