By Tobi McIntyre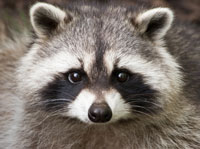 Common in many North American cities, the raccoon will eat practically any type of food — plant or animal. Many people see the raccoon's distinctive facial fur colouring as looking like a burglar's mask, which fits with the common perception of raccoons as pests. Highly social and intelligent animals, raccoons inhabit every Canadian province except the island of Newfoundland.
Raccoon Fact File
Scientific name: Procyon lotor
Length: About 80 centimetres
Weight: Six to eight kilograms
Appearance: Although its fur can vary from white to black or brown, it is usually a grizzled grey colour. The tail is marked by five to 10 alternating black and brown rings.
Habitat: The highly adaptable raccoon's only apparent habitat requirements are a source of water and food and a protected area for denning. Home ranges vary greatly between 50 square kilometres in some rural areas to less than one-tenth of a square kilometre in many cities.
Did You Know . . .
The name raccoon is derived from the Algonquian word arakun, meaning "he scratches with his hand."
There are about 1.1 million raccoons in southern Ontario alone.
Because the animal can spread its front toes widely, it can use its forepaws to handle food and other objects.
There are six species of raccoon in North, Central and South America as well as on some of the Caribbean islands.
A family consists of the adult female and her three to seven young. Family members are sociable, hunting for food together during the night and denning together during the day.
The average lifespan of raccoons in the wild is three to five years.
Raccoons' major predator is human. Other predators include pumas, bobcats, coyotes, foxes, dogs, wolves, great horned owls and fishers.
To create habitat for raccoons, provide denning sites such as hollow trees and logs.