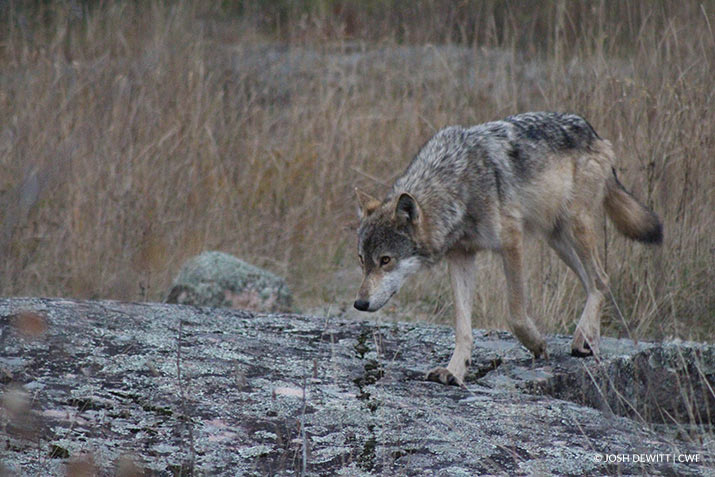 Scientific Name:
Canis lupus
Description:
Wolves of northern North America and Eurasia vary in colour. A single pack may contain animals that are black, shades of grey-brown, and white. Wolves in the heavily forested areas of eastern North America are more uniform in colour. They are often a grizzled grey-brown, similar to some German shepherd dogs.
Male wolves can weigh between 20 to 70 kilograms while the female weighs in at 18 to 55 kilograms. In the wild their lifespan can be from 8 to 16 years.
Photo Gallery:



Photo by: Megan Lorenz




Photo by: Mike Kelly







Range:
In North America, wolves have been exterminated in the Atlantic provinces, Mexico, the United States (except Minnesota, Alaska, and some of the western states), and the heavily populated areas of southern Canada. They are still common in lightly settled portions of Canada from Labrador to British Columbia and in the Yukon Territory and the Northwest Territories.
Habitat:
Wolves are territorial. Each pack occupies an area that it will defend against intruders. Sizes of territories vary greatly and are dependent on the kind and abundance of prey available.
Diet:
Wolves' chief prey are large mammals such as deer, moose, caribou, elk, bison, and muskox. Wolves also eat a variety of smaller mammals and birds, but these rarely make up more than a small part of their diet.
Behaviour:
In the wild, male and female wolves can breed only once a year. Breeding time varies with the latitude but most commonly occurs in March and April. After a nine-week gestation, or pregnancy, period, litters of five or six pups (sometimes eight or more) are born.

Wolf pups are usually born in a den. In coniferous forests and on tundra this den is commonly dug in a type of soil that lends itself to digging, such as in an esker, or gravel ridge caused by glacial meltwater, or similar area.

The pups remain inside whelping dens for approximately two weeks. By mid-autumn they are travelling with the pack and participating in hunting and other pack activities.

Frequent play helps young wolves develop hunting skills. Mature wolves can set up ambushes or drive prey toward other wolves. These learned, or non-instinctive, skills originated as pups.
More on this Species:
References:
Hinterland Who's Who
---

This content is from Hinterland Who's Who, a joint program between the Canadian Wildlife Federation and Environment and Climate Change Canada. For more species fact sheets, videos and sound clips, please visit hww.ca