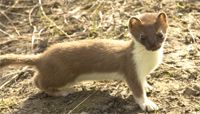 Scientific Name:
Mustela erminea
Description:
Ermines have features common to the weasel family like a long body, short legs, a long neck and a triangular-shaped head. They are a small weasel; males average 27 cm and females measure up at 24 cm with their tail adding another 7.5 cm to their length. Males are larger than females and weigh on average 80 g while females weigh an average of 54 g.
Ermines change the colour of their coats seasonally. In the summer, their backs are brown, their undersides are white and their tails sport a black tip. In the winter, they are completely white except for their black tipped tail.
Photo Gallery:
(Please note — these photos are unverified images submitted by members of the CWF Photo Club.)

Range:
Ermines are found across Canada, in every province and territory.
Habitat:
They make use of a wide range of habitats including riparian woodlands, marshes, meadows and open pastures near forest or bush. They are efficient climbers and swimmers but spend most of their time on land.
While some ermines re-use the burrows of mice and ground squirrels others make their own under tree roots, in hollow logs and in unused buildings.
Diet:
They are carnivores that prey mostly on small mammals such as rabbits, mice, chipmunks, shrews and ground squirrels. When these food items are scarce, ermines will feed on eggs, birds, fish and frogs. Ermines have high energy demands and therefore need to feed often. To help with these high energy requirements ermines store leftover kills. Their populations fluctuate with the abundance of their prey, most notably rodents.
Behaviour:
Ermines mate in late spring or early summer and after an 8 to 9 month delay in implantation, an average litter of 4 to 9 young are born the following spring. At first, young are completely dependent as their eyes are closed and are covered in only a thin layer of fine fur.

Maturing quickly, at eight weeks, they are almost adult size and are able to move with their mother. Females do all the tending to their young, including caring, nursing and protecting them. Only one litter is produced each year.

The average ermine lifespan is up to two years in the wild. While they are bold hunters they fall prey to foxes, raptors, badgers and fishers.
Notes:
Ermines have three different types of vocalizations: a trill to communicate with other ermines, a screech to ward off prey and a squeal when they find themselves in a dangerous situation.
While ermines are primarily nocturnal they are often seen during the daytime.
---
By Terri-Lee Reid
Welcoming Ermines to Your Backyard
Because ermines are proficient hunters of small mammals they are extremely beneficial in maintaining mice populations.
This little creature would benefit from an area that is kept a bit wild, with a variety of brush and vegetation. This would provide them with cover protecting them from predators while offering them a place to hunt their rodent prey.