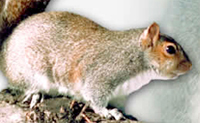 Scientific Name:
Sciurus carolinensis
Other Common Names:
Bannertail or Silvertail
Description:
Eastern grey squirrels commonly occur in two colour phases, grey and black, which leads people to think—mistakenly—that there are two different species. The most notable physical feature of the eastern grey squirrel is its large bushy tail. The tail has many important functions. It acts as a rudder when the animal jumps from high places, as a warm covering during the winter, as a signal to other eastern grey squirrels indicating an individual's mood.
Photo Gallery:
(Please note — these photos are unverified images submitted by members of the CWF Photo Club.)

Range:
The eastern grey squirrel is the largest tree squirrel found in eastern Canada. It is predominantly a nut-eating species and its historic range coincided with the vast tracts of hardwood forests in eastern North America, in particular with oak and hickory trees. The squirrels have been introduced into city parks in western Canada. There is a thriving population in Vancouver's Stanley Park, introduced in 1914, and more recently animals have been released into parks in Victoria and Calgary.
Habitat:
The eastern grey squirrel spends most of its life in trees, preferring hardwood forests of oak or hickory trees, where it moves about with great agility. When it comes to the ground to feed or store food in hiding places to eat later, it also has great mobility and can reach speeds of up to 25 km per hour.
Diet:
The eastern grey squirrel is an opportunist when it comes to finding food and can therefore live in a wide variety of habitats. Its diet varies with the seasons, depending on what is available at the time. In early spring the buds of several types of hardwood trees, in particular the maple, are its staple diet. During the summer, the winged seeds of maple (samaras) and elm seeds are the major items, together with a wide variety of berries and other wild fruits, seeds, nuts, and apples. In the autumn hard nuts, including acorns, hickory nuts, butternuts, walnuts, beechnuts, and pine seeds, are their most important foods. The squirrels become industrious hoarders at this time of year, burying hundreds of nuts and seeds for the winter, when other foods are relatively scarce. If a nut crop fails, the following winter can be a very difficult time for the squirrel.
Behaviour:
The eastern grey squirrel has two breeding seasons each year, the first in January and February and the second in June and July. Each of the mating periods lasts for about three weeks. Generally, only females over two years of age will breed in both seasons. Courtship behaviour is quite involved but it ends with the female selecting the most dominant male of the group that has shown an interest.

Gestation, or pregnancy, takes 40 to 44 days. An average of three young are born. The female generally gives birth in a warm, sheltered nest that she has prepared in a cavity inside a hollow tree. Sometimes leaf nests are used, especially for a summer litter if a tree den is not available.

The newborn young are naked and blind and weigh about 15 g. They mature quickly, developing hair by three weeks; at four weeks the tail is well furred. Their ears open by four weeks and the eyes a week later. By eight weeks the young squirrels are venturing out of the nest for short distances. Weaning, or making the transition from the mother's milk to other food, begins at this time and at about 12 weeks the youngsters will be almost adult size and quite independent of their mother.
More on this Species:
---

By Terri-Lee Reid
The acrobatic eastern grey squirrel is great fun to observe — as long as it's not ransacking your bird feeders or gnawing on your windowsills! It takes little effort for homeowners to find ways to have a mutually beneficial coexistence with the eastern grey squirrel, as with all backyard wildlife.
The eastern grey squirrel, known to many as the grey squirrel, is medium-sized and has two common colour phases: black and grey. It has a large bushy tail that assists with jumping and communication and provides warmth and also shade from the sun. A very agile climber, it is also skillful on the ground, where it can reach speeds up to 25 kilometres per hour. It is most active during the day and even in winter will often venture out around noon to take advantage of the sun's warmth. Eastern grey squirrels are not very aggressive. Often their territories overlap and they quite happily feed among each other.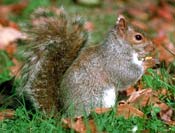 The eastern grey squirrel generally breeds twice a year, usually between December and February and then again between May and July. Gestation on average lasts 40-44 days, with the female commonly giving birth to three to five babies, although she can have up to eight! Newborn squirrels are born with no fur, eyes closed, and weighing only about 15 grams (about the weight of 2 toonies). They are entirely dependent on their mother for survival. Eastern grey squirrels can give birth to both black and grey young.
Young squirrels mature quickly. By the time they are eight weeks old they are coming out of the nest with their mother and are in the weaning stage. By twelve weeks they are already independent.
Their habitat must consist of trees, whether they're in a coniferous forest or a backyard. Their nest can be a tree den or a leaf nest, called a drey, which they construct in the crotch of a tree.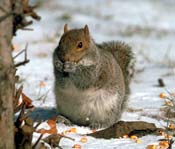 Eastern grey squirrels have a varied diet. Spring preferences are buds from deciduous trees, especially those from maples. Summer preferences include elm and maple seeds, as well as wild berries, fruits, and nuts. Fall preferences are nuts such as acorns, beechnuts, and hickory nuts. Fall is also the time when eastern grey squirrels prepare for winter by burying seeds and nuts. While not all of their buried food items will be found, their keen sense of smell allows them to recover 85 per cent of their stash. In residential areas, squirrels will also take advantage of bird feeders to supplement their winter diet. In addition to these vegetative sources, eastern grey squirrels will feed on insects and sometimes even bird eggs or young.
Eastern grey squirrels do not often live past six years. Their predators include the red fox, fisher, bobcat, lynx, weasel, and numerous hawks and owls. Babies are also preyed upon by red squirrels, snakes, and raccoons.
The eastern grey squirrel is native to southern New Brunswick, Quebec, and Ontario, as well as some areas of Manitoba and Saskatchewan. In the early 1900s they were introduced to Vancouver's Stanley Park, where they flourished and are now possibly competing for habitat with the native Douglas squirrels. Eastern grey squirrels have also been introduced to parks in Victoria and Calgary, with similar results.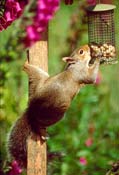 In their native habitat, eastern grey squirrels play an important role in forest regeneration. Buried but unretrieved nuts will often germinate, helping with reforestation. As an added bonus, watching squirrels and their acrobatic displays is a favourite pastime for many nature watchers.
Eastern grey squirrels can also be a source of headaches, however — they can nest in our attics, dig up our flower bulbs, and pilfer from our bird feeders. For some helpful tips on how to handle some of these common situations, check out "Banishing Bothersome Beasts".
To assist the squirrels in your area, consider planting shrubs such as wild cherry, red osier dogwood, and hawthorn. Trees important to the squirrels' diet include oak, hickory, beech, elm, pine, spruce, and maple. Not only can these plants provide a source of nuts, buds, and fruit, but some will also serve as nesting sites. Choose trees and shrubs that are native to your area. For a source near you, check out our native plant supplier list.

This content is from Hinterland Who's Who, a joint program between the Canadian Wildlife Federation and Environment and Climate Change Canada. For more species fact sheets, videos and sound clips, please visit hww.ca