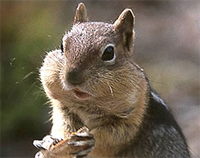 Scientific Name:
Tamias
Description:
Chipmunks are easily recognized by the light and dark stripes on the back and head. They can be confused with some of the striped ground squirrels, but chipmunks are smaller, and have facial markings and five dark stripes on their backs, including a distinct, central line that extends forward onto the head. Ground squirrels do not have markings on the head.
Photo Gallery:
(Please note — these photos are unverified images submitted by members of the CWF Photo Club.)

Range:
No species of chipmunk is found north of the treeline in Canada, in the prairie grasslands of North America, in the hot subtropical forests of Florida, or in areas with waterlogged soils. With those exceptions, chipmunks thrive throughout Canada and the United States. Some species of chipmunks even occur above the timber line on mountains and in the semidesert regions of the western United States. Their range extends south into Mexico along the mountains.
There are twenty-one chipmunk species in North America, including one in eastern Canada (eastern chipmunk) and four in Western Canada (Townsend's, least, yellow pine, and red-tailed), although the least chipmunk is found as far east as western Quebec.
Habitat:
All species of chipmunks in Canada live in forested areas. Most of them live in burrows and gather food on the ground, generally in areas where there are enough rocks, bushes, fallen logs, and piles of brush to shelter them from predators as they scamper about. Immature forests and the edges of forests near clearings, streams, ravines, and logging roads provide ample cover.
Diet:
In the spring, chipmunks feed on green leaves and shoots until their main source of food – seeds and berries becomes available. They also eat insects, fruits, flowers, earthworms, and mushrooms.
Behaviour:
In Canada, the main breeding season is from mid-April to mid-May.

The gestation, or pregnancy, period is about 30 days. Female chipmunks rear their litters—usually four to six young—without any help from males. In Canada, in most years, chipmunks have only one breeding season and one litter.

Young chipmunks are born naked and blind and weigh about 3 g at birth Hair appears at around day 10 and ears and eyes open on day 28 to 33.

When they are four to seven weeks old, the young chipmunks begin to leave the burrow to forage. The young grow rapidly during the late summer and reach adult size before the end of September. Most breed in their first spring, but some may wait until their second year.
More on this Species:
---
Chipmunks are members of the squirrel family and are often mistaken for striped ground squirrels. However, chipmunks are much smaller, bear facial markings and have five blackish stripes on their backs, including a distinct central line that extends forward onto their heads. Ground squirrels have no markings on their heads. Chipmunks also have longer faces, short, rounded ears, and large internal cheek pouches.
These perky little rodents live in burrows and gather food on the ground in areas where there are sufficient rocks, bushes, fallen logs, and piles of brush to shelter them. Chipmunks also inhabit hedgerows, fences, and gardens wherever the earth is porous enough for them to tunnel and cover is nearby. While chipmunks forage mainly on the ground, they are also good climbers and have been spotted high up in the branches of nut-bearing trees.
Chipmunks are strictly diurnal appearing above ground shortly after sunrise and returning to their burrows at sundown. Each chipmunk has its own burrow.
Chipmunks are very vocal animals. When alarmed they let out a sharp 'chip' sound ending in a chatter of fright before scurrying into their burrows. Their keen sense of hearing and sight gives them 'an edge' when trying to escape predators such as owls, hawks, coyotes, foxes, weasels, snakes, and domestic cats.
To attract chipmunks to your garden consider planting a variety of fruit, nut, or seed producing trees and shrubs. Some good ones to add are beaked hazel, sweet fern, dogwoods, maples, bitternut hickory, white elm, buffalo berry, blueberries, cherries, sweet fern, raspberries, viburnums, and American basswood. You can provide them with good nesting sites by adding rock or brush piles, or old logs. Unlike squirrels, chipmunks pose few problems at bird feeders.
You'll have hours of fun watching these shy but alert little animals as they scamper about the garden stopping every once in awhile to brush their fur, wash their faces, and take dust baths.

This content is from Hinterland Who's Who, a joint program between the Canadian Wildlife Federation and Environment and Climate Change Canada. For more species fact sheets, videos and sound clips, please visit hww.ca