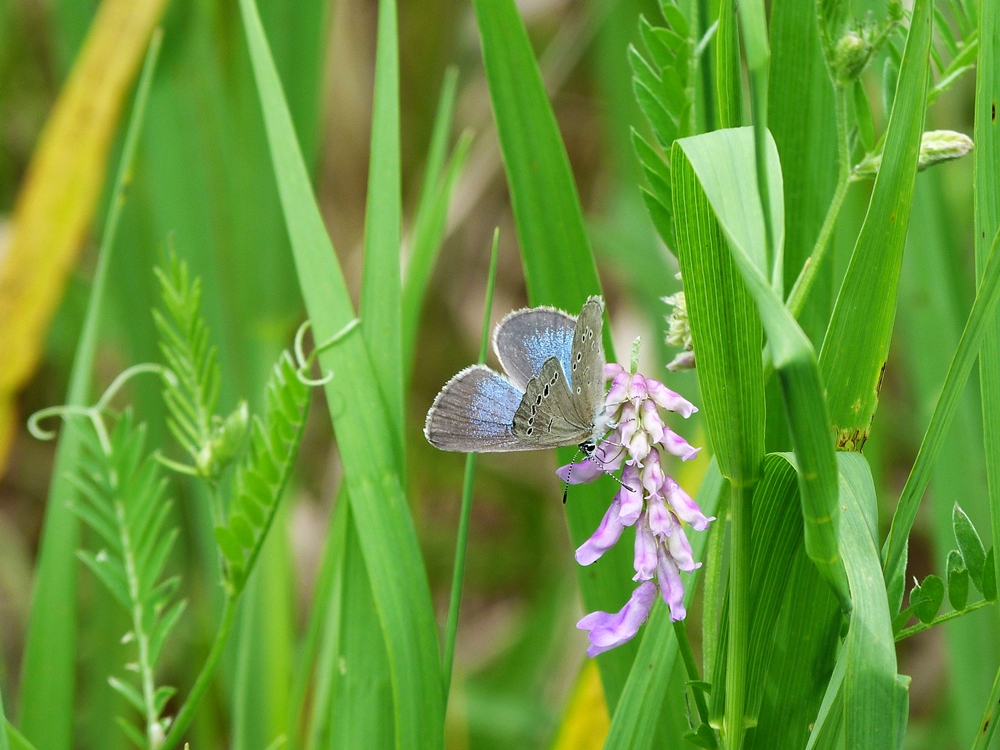 Scientific Name:
Glaucopsyche lygdamus
Classification:
Kingdom: Animalia Phylum: Mandibulata Class: Insecta Order: Lepidoptera Family: Lycaenidae Genus: Glaucopsyche
Description:
Adult wingspan approximately 2–3 cm. Adults (butterflies) have a light blue upperside with a thin, light grey border and a dark grey border within that. The dark grey border in the female is wider and fades into a pale blue to varying degrees. Their underside is grey with one row of black white-rimmed spots on both the forewing and hind wing.
Similar Species:
Arrowhead blue
(G. piasus)
has various white and light grey markings on its wings' underside, the greenish blue
(Plebejus saepiolus)
and Boisduval's blue
(Icaricia icarioides)
but the latter 2 have two rows of spots rather than one.
Photo Gallery: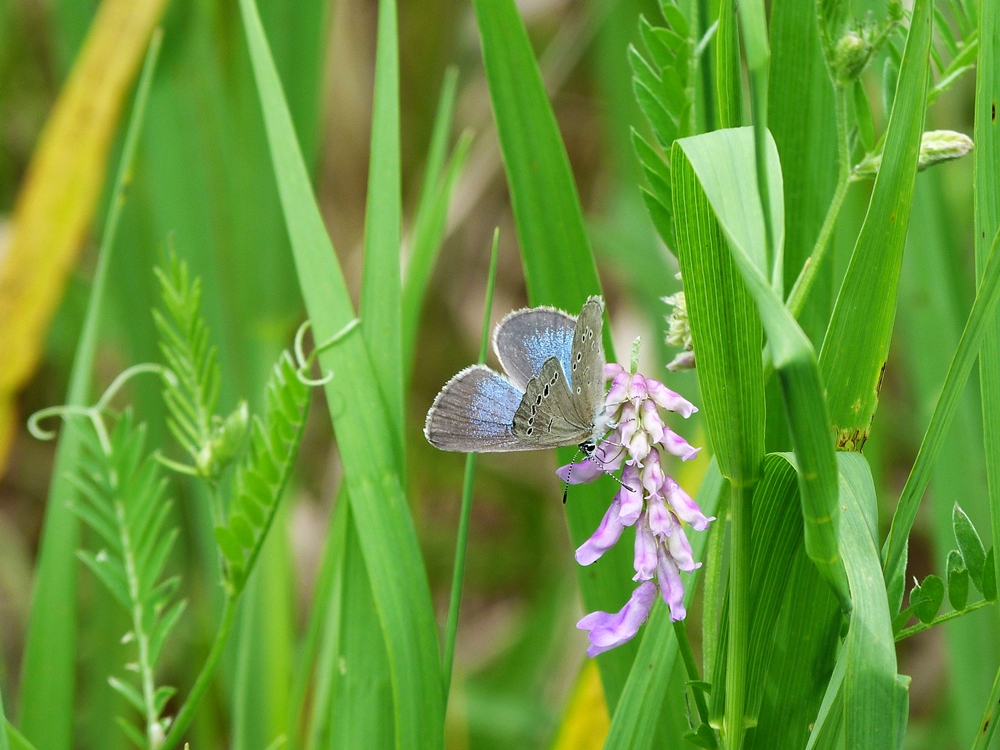 Photo by: Sherry Hambly
News:
Tweets about "pollinators"
Range:
All provinces and territories except Nunavut.
Habitat:
Open woodlands and forest clearings, flowery meadows, moist prairies, roadsides, shrubby areas, coastal dunes.
Diet:
Adults (butterflies) drink flower nectar from plants with open or deep flowers, including those in the Asteraceae (composites) family, often low-growing plants. Young (larvae/caterpillars) eat young flowers and leaves of host plants including vetches, alfalfa, white sweet clover and lupines.
Behaviour:
This is another butterfly species that will often mud puddle (drink up minerals from damp ground). Larva in the last two instars (stages) are attended to by ants, which protect them from flies and wasps. The larva secretes a drop of liquid high in sugars and amino acids. Where ants don't attend larva, fewer survive from the absence of protection, however those that do survive tend to be bigger thanks to the energy saved from not sharing the droplets with ants. This type of relationship with ants is found with several other species of butterflies.
Primary Ecosystem Roles:
Pollinator (Their pollination services come into play as pollen gets on their legs and body when they land and drink, helping the transfer of pollen from flower to flower.)
Status:
(verified February 10, 2014)
COSEWIC: not assessed
NatureServe: National rank - N5 (secure), Global rank - G5 (secure)
NOTE: While these assessment organizations do their best to stay current, the process of assigning or updating a species status may take a while to reflect real life changes.
Threats and What You Can Do:
While there is no official threat recorded for this species, they will benefit from damp areas and from a variety of native plants that will feed both adults and larvae.
Notes:
Special thanks to Chris Darling, Antonia Guidotti and Peter Hall for their help with this species profile.
References:
The Butterflies of Canada, Layberry, Ross A., Hall, Peter W., Lafontaine, J. Donald. 1998. University of Toronto Press.

Butterflies of Algonquin Provincial Park. Gary W. Otis, 1994. The Friends of Algonquin Park

Kaufman Field guide to Butterflies of North America. Brock, Jim P.; Kaufman, Kenn. 2003. Houghton Mifflin. New York, New York.

http://www.butterfliesandmoths.3org/species/Glaucopsyche-lygdamus

http://www.ontariobutterflies.ca/families/lycaenidea/silvery-blue

https://www.cbif.gc.ca/eng/species-bank/butterflies-of-canada/silvery-blue/?id=1370403265767
---