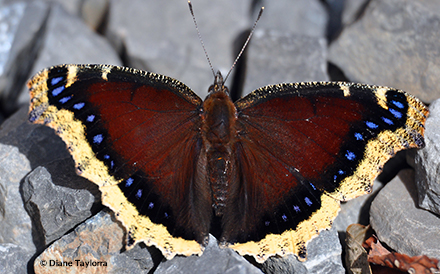 Scientific Name:
Nymphalis antiopa
Description:
Adults - The upper wings of the Mourning Cloak Butterfly are red-brown with a thick yellow border along the edge. On the inside edge of this border are bright blue elongated spots. The underside of their wings are dark with thin irregular lines. The border is duller than the upper side and the blue spots are more V shaped. Their wingspan can range from approximately five to ten centimeters. The more north they are found the smaller they tend to be.
Caterpillars – The caterpillar is black with tiny white dots and black-branched spines. It has a row of red marks on its back between the bases of these spines.
Photo Gallery:
(Please note — these photos are unverified images submitted by members of the CWF Photo Club.)

Range:
Mourning Cloaks are found across Canada and as far north as the tundra. They are one of the few species of butterfly whose range extends into Europe and Asia.
Habitat:
Mourning Cloaks can be found in a number of habitats including shorelines, forests and woodlands, fields, gardens and parks.
Diet:
Adults – While Mourning Cloak butterflies do forage on flowers for nectar, they generally prefer tree sap, such as maple, poplar, oak and birch. They are a species of butterfly that 'mudpuddles', which means they get minerals from damp sand, manure, compost as well as rotting fruit and other moist organic matter.
Caterpillars - Mourning Cloak larvae feed on a variety of trees such as elms, many willows, hackberries, Paper Birch and trees in the
Populus genus
such as Trembling Aspen and cottonwoods.
Behaviour:
Lifecycle
Mourning Cloaks overwinter as adults in tree crevices, log piles and other sheltered places. Some will migrate to a more suitable spot but many, including those in Canada's north and western areas, are known to hibernate in the same area. They emerge in early spring, sometimes when there is still snow on the ground. Mourning Cloaks are cold-blooded – like all insects they can't make their own internal heat – and need to warm up before they can move quickly or even fly. To generate heat, these butterflies vibrate their wing muscles so they can safely leave their winter roost, avoid predators, find food and mate.

The next generation are laid as clusters of eggs around a tree branch and become adult butterflies by June or July. Depending on the region, available food and seasonal weather, these butterflies may spend part of the summer being inactive. This state is called aestivation which is similar to hibernation. If the butterflies don't aestivate, they are believed to mate and lay eggs which become adults by late summer.

Those butterflies that aestivated become active again by the end of the summer and begin building their food reserves to get ready for hibernation. They have been seen as late as November in certain parts of Canada, although October is more common. Mourning Cloaks are considered the longest living butterfly. The average adult life span is a remarkable 10 months but they can live as long as a full year.


Escaping Predators
Another interesting characteristic of the Mourning Cloak is that when they are unable to fly away from a potential predator, as when they first emerge in the spring, these butterflies may play dead! They do this by tucking in their antennae and becoming completely still, probably to fool the predator into thinking it is just a bark chip.
---