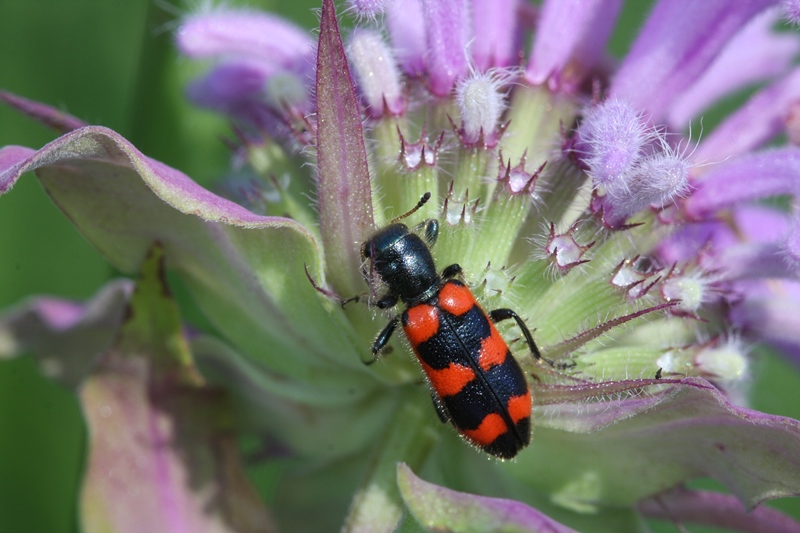 Scientific Name:
Trichodes nuttalli
Classification:
Kingdom: Animalia Phylum: Arthropoda Class: Insecta Order: Coleoptera Family: Cleridae Genus: Trichodes
Description:
Approximately 8–11 mm long. All-over colour is dark blue, green-blue or purple. The elytra (wings) have three crossbands that can be yellow, orange or red. All checkered beetles (family
Cleridae
) have a wide head and a long, narrow body with a short thorax and a long abdomen. They have long hairs along their bodies and legs, which pollen can stick onto.
Photo Gallery: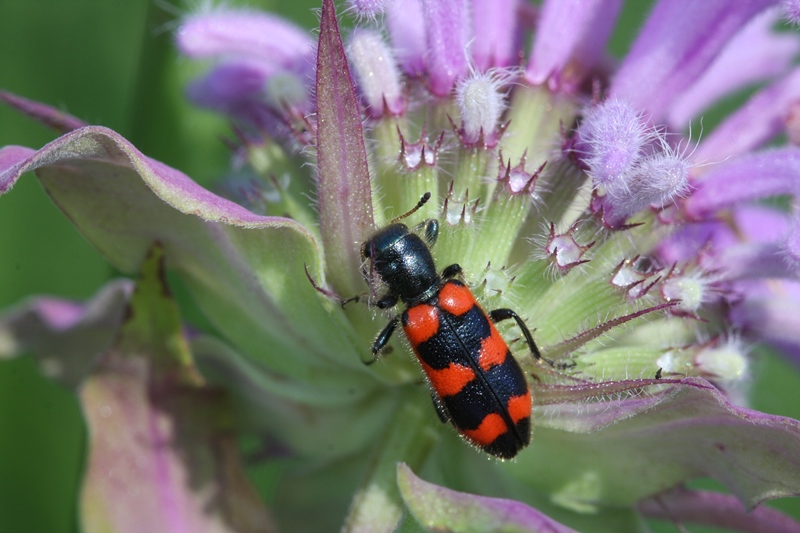 Photo by: Tom Bentley
News:
Tweets about "pollinators"
Range:
Common in Eastern North America.
Habitat:
Checkered beetles can occur where there is a supply of nectar- and pollen-rich blooms. Adult beetles can be found on bowl-shaped flowers as they forage.
Diet:
Adults eat pollen. Larvae are predaceous. Some adult beetles in the checkered beetle family are predaceous. They sometimes prey on adult wood-boring insects.
Behaviour:
Larvae of some Trichodes species prey on developing bees or grasshoppers in their nests.
Primary Ecosystem Roles:
Predator (of some insect larvae, including bees, grasshoppers, wood boring insects)
Pollinator
Status:
(verified February 14, 2014)
COSEWIC: Not assessed
Nature Serve: No records
NOTE: While these assessment organizations do their best to stay current, the process of assigning or updating a species status may take a while to reflect real life changes.
Threats and What You Can Do:
Although this is a fairly common species and not currently at risk, you can plant native flowers such as sunflowers and water lilies in your garden to help support checkered beetles and other pollinators.
References:
How to know the Insects. Third Edition. Bland, Roger G.; Jaques, H.E., 1978. WCB/McGraw-Hill. United Sattes of America.
Insects: Their Natural History and Diversity. Marshall, Stephen A., 2006. Firefly Books Ltd. Richmond Hill, Ontario.
The Xerces Society Guide Attracting Native Pollinators: Protecting North America's Bees and Butterflies. Xerces Society Guide, 2011. Storey Publishing. North Adams, Massachusetts
http://eol.org/pages/1174606/overview
http://animaldiversity.ummz.umich.edu/accounts/Trichodes_nuttalli/pictures/
---