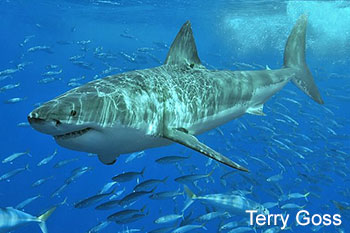 Scientific Name:
Carcharodon carcharias
Description:
The (great) white shark is the most famed of shark species, known worldwide for its large size, predatory nature and reputation for occasionally attacking humans. It is recognizable by its immense size, conspicuously black eye and the sharp contrast between its backside and underside colouration changing from dark grey, or even black, to white. It has a heavy spindle-shaped body, a moderately long conical snout, and large triangular teeth with blade-like serrations.
Photo Gallery:
(Please note — these photos are unverified images submitted by members of the CWF Photo Club.)

Range:
Nova Scotia, International, New Brunswick, Newfoundland, Prince Edward Island
Habitat:
The white shark occurs in both inshore and offshore waters. It ranges in depth from just below the surface to just above the bottom, down to a depth of at least 1,280 m. It occurs in the breakers off sandy beaches, off rocky shores, and readily enters enclosed bays, lagoons, harbours, and estuaries, but does not penetrate mixed fresh and salt waters (brackish) or fresh waters to any extent.
More on this Species:
References:
Department of Fisheries and Oceans
---