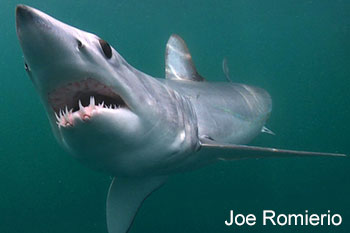 Scientific Name:
Isurus oxyrinchus
Description:
The shortfin mako (Isurus oxyrinchus) is one of five species in the family commonly known as mackerel sharks which includes the great white shark and basking shark. The mako shark is described as spindle shaped, deep blue to purple above and white below, with a conical head, sharply pointed snout and crescent shaped caudal fin. The u-shaped mouth has large sharp teeth that protrude outside of the mouth even when closed. It can reach a maximum length of over 4 m.
Range:
Nova Scotia, New Brunswick, Newfoundland
Habitat:
Shortfin mako are found around the world from temperate to tropical waters. In the northwest Atlantic, they have been found both inshore and offshore, from Bermuda to the waters east of Newfoundland. In Canadian waters, where they are considered at the edge of their range, they have been recorded from the Grand Banks off Newfoundland, along the Scotian Shelf and down to Georges Bank. Tagging studies indicate that shortfin makos are highly migratory, with distribution apparently dependent on water temperatures which they prefer between 17 and 22o C. They migrate to the Atlantic coast of Canada generally in the late summer and fall where they are usually associated with the warm waters of the Gulf Stream. They are extremely adaptable and able to withstand significant changes in temperature as well as changes in food availability over its wide range.
More on this Species:
References:
Department of Fisheries and Oceans
---