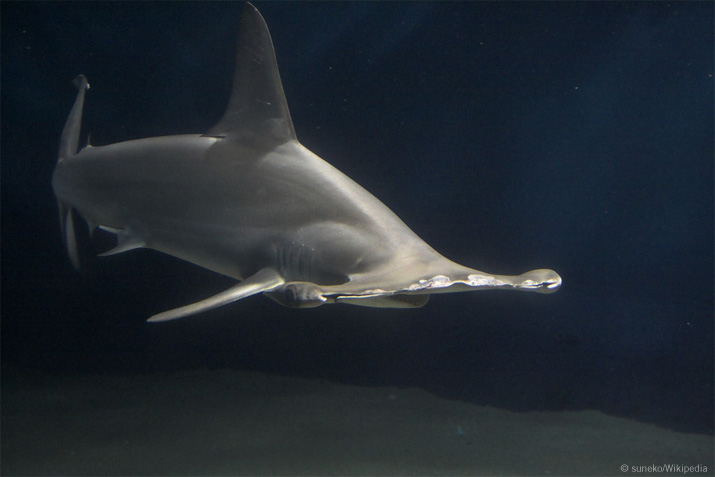 Scientific Name:
Sphyrna zygaena
Description:
Hammerheads are easily recognized by the unique shape of their head, which resembles a flattened, double-sided hammer. They have a U-shaped mouth filled with triangular teeth and eyes on the sides of their head. They are olive-brown or grey-brown on their dorsal surface and white below. Sometimes their pectoral fins have dark tips. Hammerheads can grow to over four metres in length and weigh more than 400 kilograms.
Photo Gallery:
| | | |
| --- | --- | --- |
| Photo by: Suneko/wikipedia | Photo by: Xvic/wikipedia | |
News:
Tweets about "hammerhead shark"
Range:
Nova Scotia
Habitat:
Although several species of hammerhead sharks are found throughout the world, the smooth hammerhead is the only one found in Canadian waters. Smooth hammerheads are found throughout the temperate-and much less frequently, tropical-waters of the world. In the North Atlantic, they range from Nova Scotia to Florida, preferring to lurk inshore in shallow water, at depths typically less than 20 metres. They are extremely rare in Canadian waters, where they are only found offshore in the Gulf Stream.
More on this Species:
References:
Department of Fisheries and Oceans
---