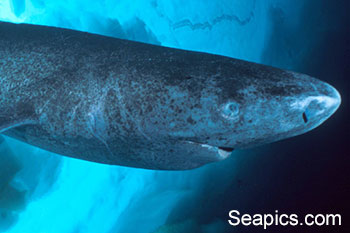 Description:
Greenland sharks are very large, heavy fish. They have a thick body with a blunted snout, tiny eyes, small pectoral fins, and two spineless, nearly equally small dorsal fins. Greenland sharks are uniformly blackish, coffee brown, or slaty or purplish grey; sometimes with white flecks or indistinct dark crossbars. They average 2.5 to 5 metres in length with a maximum of 7.5 metres, and weigh up to one tonne. There is no reliable information on their lifespan.
Photo Gallery:
(Please note — these photos are unverified images submitted by members of the CWF Photo Club.)

Range:
Nova Scotia, International, New Brunswick, Newfoundland, Nunavut
Habitat:
Greenland sharks are native to the Arctic and subarctic regions of the northern Atlantic in waters of 0 to 7 degrees C. In the western Atlantic, they are common off Ellesmere and Baffin islands, Baffin Bay and Davis Strait south to Newfoundland and the northern part of the Gulf of St. Lawrence, and along the edge of the continental shelf of Nova Scotia to the Gulf of Maine. In the eastern Atlantic, they are found from Svalbard and the White Sea southward to France (and possibly as far as Portugal). They have also been reported in the South Atlantic, near South Africa, from Argentina, and from Antarctic waters. Greenland sharks generally live at depths from 180 to 730 metres, but can be found to depths of more than 1200 metres in more southerly waters during summer. They can also be found in shallower waters when the water is cold, especially in winter.
More on this Species:
References:
Department of Fisheries and Oceans
---