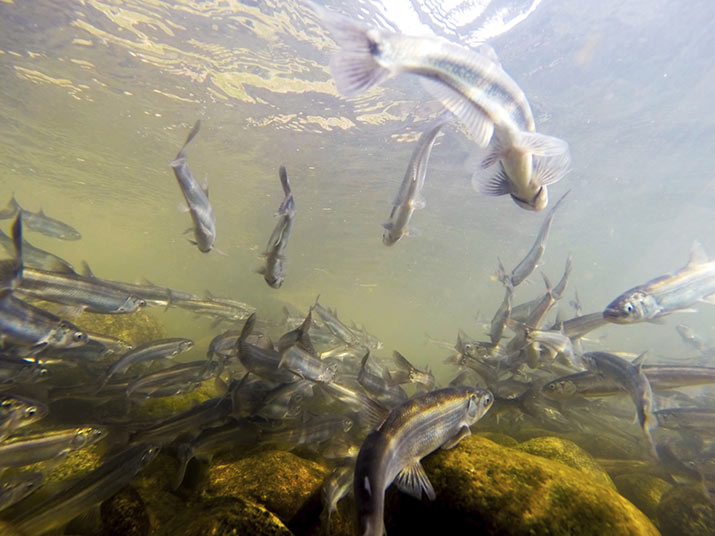 (Thaleichthys pacificus)
STATUS: Special Concern


(The Nass/Skeena rivers population is of Special Concern. The Central Pacific Coast population and Fraser River population are Endangered)
Canadian origin:
Glacier-fed rivers in British Columbia including the Nass and Skeena rivers.
Destination:
Up the West Coast to the Aleutian Islands. Eulachon can be found from the southern Bering Sea to northern California. Within B.C., they have been documented spawning in 33 rivers, but may use only 14 or 15 on a sustained basis.
Habitat:
Eulachon are a small ocean fish. They spend most of their adult lives in the ocean but return to their natal freshwater streams and rivers to spawn and die. Eulachon are found throughout the northeast Pacific from the eastern Bering Sea to northern California.
Food sources:
Eulachon feed primarily on plankton, fish eggs, insect larvae and small crustaceans.
Fun fact:
Eulachon are also called candle fish, which comes from having so much body fat during spawning (up to 15 per cent), that they can be dried, strung on a wick and burned as a candle.

Eulachon (Thaleichthys pacifi cus) Range Map. Canada and lower U.S. states: COSEWIC Assessment and Status Report on the Eulachon, 2011, sararegistry.gc.ca/virtual_sara/fi les/cosewic/sr_eulachon_ 0911_eng.pdf; Alaska: Alaska Department of Fish and Game, adfg.alaska.gov/index.cfm?adfg=eulachon.main