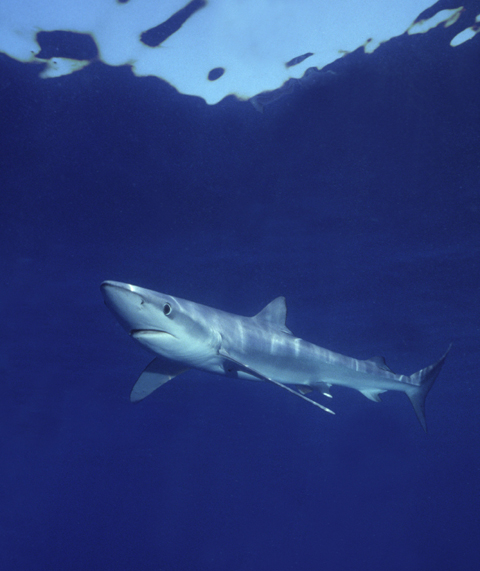 Scientific Name:
Prionace glauca
Description:
Blue sharks are recognizable for their exceptionally slender body and bright blue coloration. They are dark blue on the back, bright blue on the sides, and white on the underside. The colour quickly changes to a uniform dark grey if the shark is removed from the water. They have a long snout, large eyes, and narrow pointed pectoral fins. Adults range in size from about 2 – 3 m (6 – 10 feet).
Photo Gallery:
(Please note — these photos are unverified images submitted by members of the CWF Photo Club.)

News:
Tweets about ""Blue Shark""
Range:
Nova Scotia, New Brunswick, Newfoundland, British Columbia
Habitat:
Blue sharks are a wide ranging species, distributed globally in both temperate and tropical waters. They are present off both the Pacific and Atlantic coasts of Canada. They are a highly migratory species, and are considered one of the widest ranging sharks. In the summer, as warmer water moves northwards, blue sharks can be found off the west coast of Vancouver Island, Canada, within 40 nautical miles (70 km) of shore.
More on this Species:
References:
Department of Fisheries and Oceans
---