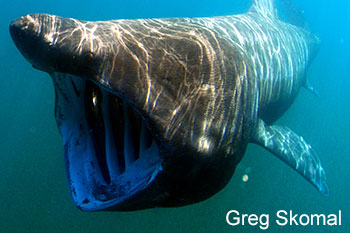 Scientific Name:
Cetorhinus maximus
Description:
The basking shark is the second largest fish in the world, with a maximum recorded size of 12.2 m. This filter-feeder is named after its conspicuous behaviour of 'basking' (more accurately feeding) at the surface. The basking shark is typically blackish to grey-brown. It has an extremely large mouth with minute teeth, elongated gill slits, a pointed snout, and a crescent-shaped caudal fin. Gill openings have prominent gill rakers. It is the only species in its family, Cetorhinidae. The earliest fossil basking shark is 29 to 35 million years old.
Photo Gallery:
(Please note — these photos are unverified images submitted by members of the CWF Photo Club.)

Range:
British Columbia
Habitat:
Basking sharks are planktivores, and areas with high concentrations of zooplankton (small crustaceans and fish larvae drifting in the water column) appear to be their favoured habitat, typically including fronts where water masses meet, headlands, and around islands and bays with strong tidal flow. They spend much of their time near the surface, although there is recent evidence that basking sharks may also use deepwater habitats greater than 1000 m.
More on this Species:
References:
Department of Fisheries and Oceans
---