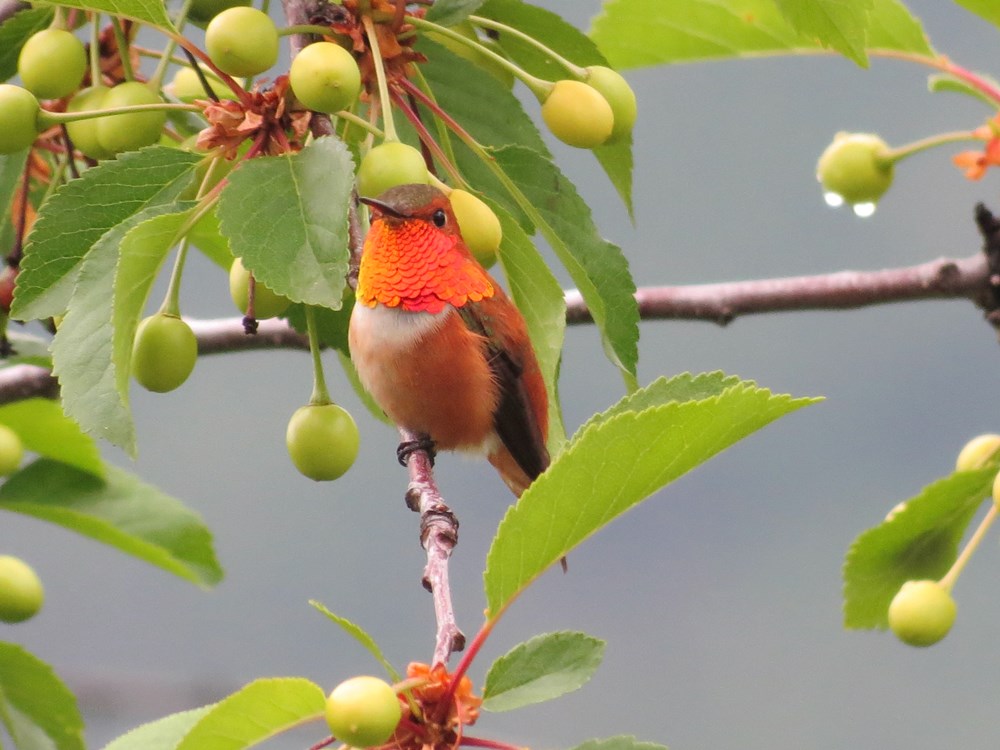 Scientific Name:
Selasphorus rufus
Classification:
Kingdom: Animalia Phylum: Chordata Class: Aves Order: Apodiformes Family: Trochilidae Genus: Selasphorus
Description:
Approximately 9.5 cm long. Adult male upperparts are mainly reddish-brown with dull green on the top of their head and a white patch behind the eyes. Their throat is iridescent orange-red and has white at the top of their breast and parts of the belly; the rest of its underparts are reddish-brown. Adult females are similar to males but paler and greener; their throat is white with dark and/or iridescent spots of orange-red. Immature birds resemble the females, but immature males start to show reddish-brown upperparts before their throat colours develop.
Similar Species:
Allen's hummingbird
(Selasphorus sasin)
, found in the southwestern United States.
Photo Gallery:
| | | |
| --- | --- | --- |
| Photo by: Tania Simpson | Photo by: Tania Simpson | Photo by: Tina Sherwood |
| Photo by: Marian Zeller | Photo by: Lauren Nicholl | Photo by: Steven Fines |
| Photo by: Damon Calderwood | Photo by: Damon Calderwood | Photo by: Damon Calderwood |
| Photo by: Damon Calderwood | Photo by: Damon Calderwood | Photo by: Joyce Benham |
| Photo by: Garry Nolan | Photo by: Michael Kawerninski | Photo by: Shelley Penner |
News:
Tweets about "pollinators"
Range:
British Columbia, western Alberta
Habitat:
Found in a variety of habitats including mountain meadows, forests, woodlands, edges, open shrubby areas, gardens, parks and swamps.
Diet:
They drink floral nectar from tubular flowers such as wild columbines
(Aquilegia spp.)
, lilies, penstemons
(Penstemon spp.)
, fireweed
(Epilobium angustifolium)
and Indian paintbrush
(Castilleja spp.)
. They also drink sap from sapsucker holes and eat insects and spiders caught in flight or foraged from leaves, tree bark or webs.
Behaviour:
They are solitary birds that are known to aggressively defend their territory. Rufous hummingbirds generally migrate south to Mexico and a portion of the southern States for the winter months. They travel south along mountain meadows; however, their path when they return northwards is usually along the west coast.
Primary Ecosystem Roles:
Pollinator - While they don't eat much pollen, Canada's hummingbirds nevertheless help transfer any that get on their upper body as they move from flower to flower.
Insect control
Status:
(verified February 11, 2014)
COSEWIC – Not assessed
NatureServe: National rank - N5B (breeding populations secure), Global rank - G5 (secure)
NOTE: While these assessment organizations do their best to stay current, the process of assigning or updating a species status may take a while to reflect real life changes.
Threats and What You Can Do:
While the status of this species is currently considered stable, you can help it by gardening organically to allow insects and spiders to be a healthy source of food. You can also grow a variety of native tubular flowers. If you include non-natives, avoid invasive species. Leave any mature trees where possible for them to nest or even bathe on.
Notes:
Special thanks to Michel Gosselin for his help with this species profile.
More on this Species:
References:
The Audubon Society Field Guide to North American Birds - Eastern Region. 1993. Bull, John, Farrand, John Jr.,Alfred A. Knopf.

Birds of Canada, 2004. Alsop, Fred J. III. Dorling Kindersley.

Field Guide to the Birds of North America - Second Edition, 1994. National Geographic Society


http://bna.birds.cornell.edu/bna

http://www.museevirtuel-virtualmuseum.ca/sgc-cms/expositions-exhibitions/colibri-hummingbird/En/Hummingbird/Hummingbirds-In-Canada/Rufous-Hummingbird-Selasphorus-Rufrus/index.html

http://www.allaboutbirds.org/guide/rufous_hummingbird/lifehistory

http://bna.birds.cornell.edu/bna/species/053/articles/introduction
---