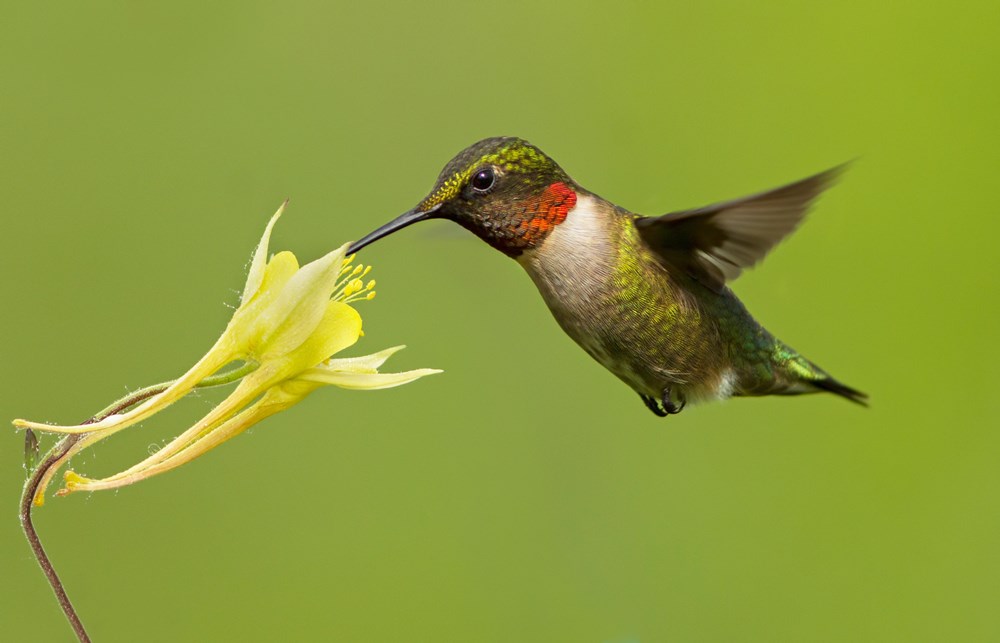 Scientific Name:
Archilochus colubris
Classification:
Kingdom: Animalia Phylum: Chordata Class: Aves Order: Apodiformes Family: Trochilidae Genus: Archilochus
Description:
Approximately 9–10 cm long. Adult males are metallic green on the upperparts, iridescent ruby red on the throat, white on the underparts and green along the sides. Adult females look similar to males but with a white throat, greyish belly and buff along the sides of the belly, sometimes with a little red on the throat. Immature males look similar to females but with red streaks down the throat.
Similar Species:
The black-chinned hummingbird
(Archilochus alexandri)
is found in the west and is slightly bigger. The male's throat typically looks more purple than red. The broad-tailed hummingbird
(Selasphorus platycercus)
generally lives in the western region of the United States.
Photo Gallery:



Photo by: Frank McHarg




Photo by: Alexis Hayes




Photo by: Frank McHarg




Photo by: Bill McMullen




Photo by: Mircea Costina




Photo by: Bill McMullen




Photo by: Lucie Gagnon
News:
Tweets about "pollinators"
Range:
Alberta to Nova Scotia.
Habitat:
Mixed, boreal and hardwood forests; woodlands and forest edges, gardens, parks.
Diet:
They drink floral nectar, especially of tubular flowers such as the cardinal flower
(Lobelia cardinalis)
, wild bergamot
(Monarda fistulosa)
, bee-balm
(M. didyma)
, lily
(Lilium spp.)
, Indian paintbrush
(Castilleja sp.)
, jewelweed
(Impatiens capensis)
and wild columbine
(Aquilegia spp.)
. They also drink tree sap from sapsucker holes and eat insects (adults, eggs and larvae) and spiders caught in flight, in leaves, on tree bark or on webs. According to Cornell's Birds of North America Online, they "occasionally feed from willow
(Salix spp.)
catkins when other foods scarce."
Behaviour:
Like other hummingbirds, ruby-throated hummingbirds typically drink nectar while hovering in front of a flower. They typically make their nests out of soft plant material on the inside and camouflaging lichen, moss and tree bark on the outside; the nests are held together with spider webs. Many of these birds migrate long distances, sometimes flying nonstop to southern Mexico and throughout Central America.
They are known to bathe in water collected on large leaves. They also enjoy some humidity and are known to fly more after a rainstorm or through a mist of hose water. Try setting up a hose in the crook of a tree, for example, and turn it on at the same time each day. Then wait for the hummingbirds to arrive.
Primary Ecosystem Roles:
Pollinator (While they don't eat much pollen, Canada's hummingbirds nevertheless help transfer any that get on their upper body as they move from flower to flower)
Insect control
Status:
(verified February 11, 2014)
COSEWIC – Not assessed
NatureServe: National rank - N5B (breeding populations secure), Global rank - G5 (secure)
NOTE: While these assessment organizations do their best to stay current, the process of assigning or updating a species status may take a while to reflect real life changes.
Threats and What You Can Do:
While the status of this species is currently considered stable, you can help them by gardening organically to allow insects and spiders to be a healthy source of food for these winged visitors. You can also grow a variety of native tubular flowers. If you include non-natives, avoid invasive species. Leave any mature trees where possible for the birds to nest or even bathe in.
Notes:
Special thanks to Michel Gosselin for his help with this species profile.
More on this Species:
See also:
References:
The Audubon Society Field Guide to North American Birds - Eastern Region. 1993. Bull, John, Farrand, John Jr.,Alfred A. Knopf.

Birds of Canada, 2004. Alsop, Fred J. III. Dorling Kindersley.

Field Guide to the Birds of North America - Second Edition, 1994. National Geographic Society


http://bna.birds.cornell.edu/bna

http://www.museevirtuel-virtualmuseum.ca/sgc-cms/expositions-exhibitions/colibri-hummingbird/En/Hummingbird/Hummingbirds-In-Canada/Rufous-Hummingbird-Selasphorus-Rufrus/index.html


http://www.allaboutbirds.org/guide/Ruby-throated_Hummingbird/id
---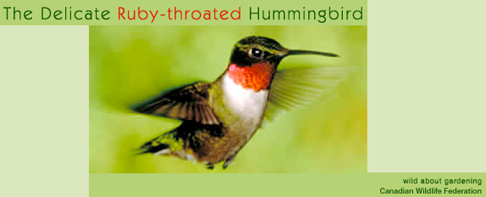 Text by Terri-Lee Reid
Photos by Corel
Flying forwards, backwards, or hovering in the air, ruby-throated hummingbirds delight us with their delicateness as they visit our gardens and feeders.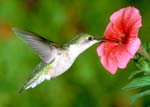 While most of us recognize males because of their red throats and metallic green backsides, the white-chinned females are not as easily recognized. Measuring between 7.5 and 9.5 centimetres from bill to tail, and weighing approximately three grams, ruby-throated hummingbirds are the most common hummingbird species out of the five that are found in Canada.
Having one of the longest migration routes of any hummingbird, ruby-throated hummingbirds migrate to Central America beginning in late summer or early fall with males leaving first. Amazingly, these small birds cross the Gulf of Mexico, a non-stop voyage measuring 800 kilometres! In spring, they make the return trip with the males arriving first.
The preferred breeding habitat for ruby-throated hummingbirds are the deciduous or pine forests, gardens, and orchards found from Alberta east to Nova Scotia, including Prince Edward Island.
When males return from their wintering grounds they first establish a territory and then begin their courtship displays after the arrival of females. The male plays no parental role after mating has occurred.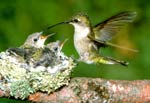 The female builds a nest out of plant down, cobwebs, lichens, and spider silk, giving it the appearance of a knot in a tree. The nest is built in a tree or shrub, often over water, three to 10 metres high but where it is still protected by overhead leaves. In this nest she lays an average of two white bean-sized eggs that she incubates for 10 to 14 days. After this period the hummingbirds emerge, no bigger than a honeybee, with eyes closed and very few feathers. Approximately 14 to 28 days later they are ready to leave the nest.
Beating their wings between 55 and 75 times per second, ruby-throated hummingbirds obtain energy by feeding on small insects and nectar. Although better known for their thirst for nectar, insects are a very important part of their diet. These are caught on the wing or gathered from the flowers where they feed. Preferred nectar sources are tubular flowers such as columbines, jewelweed, and bee balm. However, when nectar is scarce they depend on tree sap from the holes drilled by yellow-bellied sapsuckers.
Because of their small size, ruby-throated hummingbirds are often mistaken for insects. As such, insect-eating hawks and other raptors often take them as prey. Storms, early frosts, and even spider webs can be life-threatening events to a hummingbird.
Ruby-throated hummingbirds are not only spectacular little birds that provide us with enjoyment; they are also important pollinators.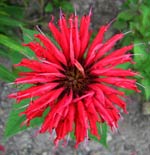 Photo: Sarah Coulber
You can attract ruby-throated hummingbirds to your garden by planting bright, native tubular flowers. Their two preferred flower colours are red and orange.
Some plants to try are fireweed, columbine, honeysuckle (although please avoid the invasive Japanese and Tartarian honeysuckles), jewelweed, penstemon, bee balm, bleeding heart, butterfly weed, cardinal flower, and Canada or Turk's cap lily. Since the small insects that visit these flowers are as important to hummingbirds as nectar, be sure to avoid the use of pesticides in your garden.
You can also purchase a hummingbird feeder and fill it with a solution that you can make at home. To make your own hummingbird food, boil one part white sugar to four parts water for five minutes. You can use the solution once it has cooled, storing any excess in the refrigerator. Do not use honey in the mix because it can make hummingbirds sick, nor artificial sweeteners as they provide no sustenance for birds. Also avoid food colouring as this only adds chemicals to their diet. Fill one-third of the container and change the mixture twice a week. If the weather is really hot it should be changed every second day. When you change the mixture, take the time to clean the feeder with hot water to remove bacteria.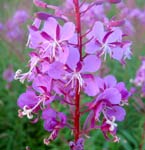 Photo: Sarah Coulber
To entice hummingbirds to nest in your garden, provide a diversity of leafy trees and large shrubs; they have been known to nest in ironwood, beech, yellow birch, and maples, among other species. You can also provide nesting material by planting fireweed, milkweed, thistle, and other down-producing plants.
A source of fresh water is also important for hummingbirds. More information on how you can attract hummingbirds to your backyard is available on the Wild About Gardening Web site.
Remember to take some time this summer to enjoy these beautiful little gems!