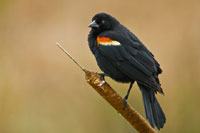 Scientific Name:
Agelaius phoeniceus
Description:
The red-winged blackbird is a medium-sized song bird, ranging in size from 17 to 23 centimetres, with a very distinct call. Males are a sleek black colour with bright red patches on the tops of their wings. These red patches are called epaulettes and are sometimes less visible while the bird is perched, when it only shows the slight yellow band found below the red epaulettes. Young males are often a dark brown colour and appear as if they are molted before they mature; however, they still retain the red patch on the shoulder.
Females are less distinctive with their brown- and white-striped backs and white- and brown-striped abdomens. Their colouring often causes them to be mistaken for other species of blackbird or sometimes for sparrows.
Photo Gallery:
(Please note — these photos are unverified images submitted by members of the CWF Photo Club.)

Range:
A common bird throughout North America, the red-winged blackbird can be found across Canada from the Yukon to northwestern British Columbia and as far east as southwestern Newfoundland. They can also be spotted in a variety of locations south of the Canadian border, such as tropical Costa Rica, the northern Bahamas and Cuba.
Habitat:
Commonly found living in wetlands, including both fresh and brackish water swamps and marshes, red-winged blackbirds are especially fond of habitats with thick growths of cattails and bulrushes. On occasion they can also be found in bushes and small trees, likely constructing their nests from woven marsh vegetation and grasses from surrounding fields and forests. Settling on nesting sites that rest over water minimizes predation of the red-winged blackbirds' young, reducing the loss of eggs and nestlings to other birds, minks, and raccoons. Adults continue to face predation mainly from hawks and owls.
Diet:
The diet of a red-winged blackbird consists mostly of seeds and grains when they first return to their nesting sites in early spring. As the weather gets warmer and spring arrives, they will begin to eat berries and wild fruit. In the summer months they will incorporate insects, caterpillars, grubs, spiders, mollusks and snails into their diet as well. While foraging for food on the ground, the birds use a combination of walking, running and hopping.
Behaviour:
The red-winged blackbird is a polygamous species, meaning that it will have more than one mate per season in order to pass along as many of its genes as possible onto the next generation. Males defend their territories and their mates very aggressively, chasing any competitors out of the area. Red-winged blackbirds can give birth to multiple young, called broods, per year. In each brood there will be between three to five eggs laid. The eggs are typically blue-green and covered in spots. The eggs hatch after approximately two weeks of incubation.

Once they have hatched red-winged blackbird young stay in the nest for nine to 12 days. Because the nests are placed over water, the young are at increased risk if they fall. The young have, however, developed the ability to swim for short distances should they fall from the nest. This ability is lost as they reach adulthood.
Conservation Management:
The red-winged blackbird is a very well-established bird species in North America. Aside from predation, the main threat to the population is habitat loss due to drainage of wetlands for development and agriculture.

Development and agriculture, often accompanied by an increase in pesticide use, contributes as a secondary stressor for the birds. Pesticides can bioaccumulate in the food chain, resulting in an increased number of birds falling ill due to the level of pesticides found in their prey, a direct consequence of consuming the plants and insects that have been sprayed.

You can encourage these birds to nest in your area by using natural methods of pest control as well as helping to conserve wild areas in your neighbourhoods and allowing riparian and wetlands to remain undisturbed.
Notes:
Red-winged blackbirds, known to feed and roost in large flocks, often alternate between periods of activity and inactivity, using their resting periods to feed. Their active periods are spent aggressively defending their territory and displaying to females, trying to impress them with their fine-coloured wings. Males become defensive of their territory almost as soon as they occupy it.
More on this Species:
References:
Hinterland Who's Who
---