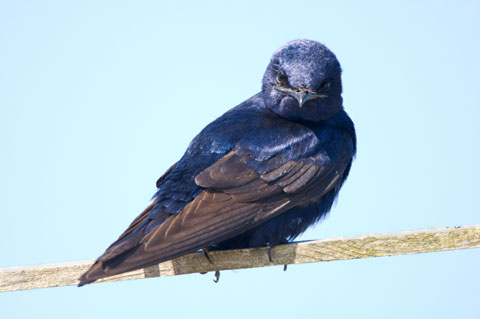 Scientific Name:
Progne subis
Description:
The Purple Martin, Progne subis, is a conspicuous bird in many populated areas of North America during spring and summer. Averaging 17 to 20 cm in length and a wing span of 9-41 cm, it is Canada's largest swallow. The life span of this swallow is one to five years. The Purple Martin resembles other swallows in having a slender body, long wings, and a wide beak. Males show a shiny blue-black coloration on sunny days. Females are lighter in colour, with a pale grey throat and belly.
Photo Gallery:
(Please note — these photos are unverified images submitted by members of the CWF Photo Club.)

Range:
The Purple Martin breeds throughout much of southern Canada, including Nova Scotia, the southern portions of New Brunswick, Quebec, Ontario, and Manitoba; southern and central Saskatchewan; and north-central Alberta. In British Columbia, martins are found in the Peace River region, southern Vancouver Island, and the extreme southwestern mainland. Martins are much less common in western Canada than in the eastern provinces.
Habitat:
It is happy to nest in human-made, multi-compartment houses common both in the country and in the cities, sites that can be revisited by the same bird family for up to 100 years.
Diet:
Martins consume a variety of the larger flying insects, including dragonflies, moths, butterflies, house flies, horse flies, and deer flies.
Behaviour:
Martins arrive in Canada in early spring, usually in early April in Quebec and Ontario and from late April to early May in other areas. Purple Martins can be found in colonies or in pairs. In either case the male and female pair will build the nest together, using twigs, leaves, mud, and, if available, feathers. Martins typically lay one clutch, or set, of four or five dull white eggs per summer.

The female spends 70 to 80 percent of the daylight hours incubating the eggs, which hatch after 15 to 18 days.

Young martins remain in the nest for a long time, typically 28 to 35 days and can be fed up to 60 times per day. This long period is apparently necessary for the full development of the flight feathers.
More on this Species:
References:
Hinterland Who's Who
---
Did you know?
Purple martins are superb flyers, changing direction often as they pursue flying insects.
These swallows prefer open areas, especially if lakes or marshes are nearby.
Most martins show remarkable navigational ability, returning year after year to their breeding colonies.
In nature, purple martins nest in cliff crevices, abandoned woodpecker holes and hollow trees. In settled areas, most breeding pairs form colonies in multi-compartment houses.
Improperly designed martin houses are a serious problem — if rooms are too small, nestlings may die of overheating in the summer. Visit www.hww.ca to learn how to build a proper purple martin house.
This bird consumes a variety of the larger flying insects, including dragonflies, moths, butterflies, house flies, horse flies and deer flies.
Male and female purple martins may feed their nestlings up to 60 times a day.
The overall number of purple martins in North America has increased since 1966, but local population trends vary.