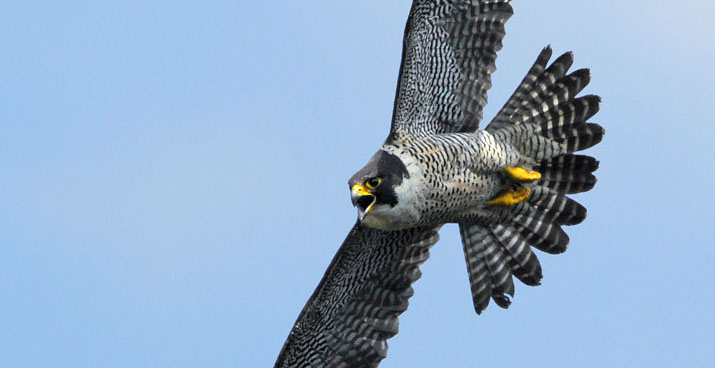 (Falco peregrinus)
STATUS: Special Concern


(The anatum/tundrius and pealei subspecies are special concern)
Canadian origin:
Throughout Canada, found in all provinces and territories except Prince Edward Island
Destination:
Venezuela, Chile and Caribbean Islands
Habitat:
Peregrine falcons can be found on all continents except Antarctica, from the tundra to the desert. They prefer wide-open spaces and are most commonly found near coasts.
Food sources:
They are carnivores, eating medium-sized birds such as pigeons, ducks and shorebirds.
Fun fact:
Although their name means "wanderer," peregrine falcons have an incredible homing instinct that can lead them back to their nesting sites after travelling thousands of kilometres.

BirdLife International and NatureServe (2014) Bird Species Distribution Maps of the World. 2014. The IUCN Red List of Threatened Species. Version 2014.3. iucnredlist.org. Downloaded on 28 November 2014.Photo © Tom Lusk