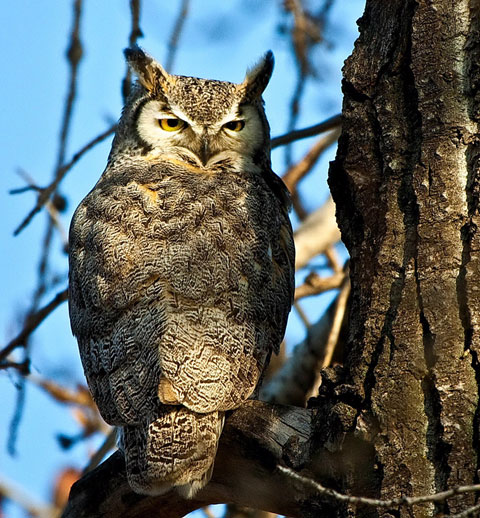 Scientific Name:
Bubo virginianus
Description:
The Great Horned Owl is one of Canada's commonest large birds of prey. The most notable physical attributes are its large size and prominent ear tufts or "horns." A predator that hunts at night, this owl has enormous yellow eyes set in a broad face, a curved beak and claws, and long fluffy feathers. Its coloration tends mainly toward brown or grey-brown, with conspicuous barring. This bird's legendary hooting sounds like a soft yet vibrant whoo-hoo-ho-o-o.
Photo Gallery:
(Please note — these photos are unverified images submitted by members of the CWF Photo Club.)

Range:
Northwest Territories, Nova Scotia, Manitoba, New Brunswick, Newfoundland, Quebec, Saskatchewan, Yukon Territories, Nunavut, Ontario, Prince Edward Island, British Columbia, Alberta
Habitat:
Rarely moves far from its place of birth and can be found in virtually every forested and semi-forested region in North America.
Diet:
With no need to make seasonal migrations, the great horned owl is likely to be a year-round resident of limited hunting ranges of about eight to 10 km².
Great Horned Owls are capable of handling a wide variety of prey, ranging in size from shrews and songbirds to skunks and geese. The Great Horned Owl mainly depends upon medium-size mammals and birds to rabbits and hares where available. When mice or voles are abundant they will consume these as well.
Behaviour:
Great Horned Owls customarily take possession of the previous year's nest of some other raptor, such as a Red-tailed Hawk, or that of a crow or magpie.

Great Horned Owls are very early nesters with egg laying and incubation underway well before the snow disappears. Laying begins approximately one month before hatching.

The number of eggs per nest ranges from one to five, and the size of the average clutch, or set of eggs, differs from place to place and from year to year.

The young owls are almost fully feathered and capable of short flights around eight weeks of age. However, they remain largely dependent upon their parents for food during most of the summer and likely do not disperse from the territories where they hatched until fall.
More on this Species:
References:
Hinterland Who's Who
---
Did you know?
The great horned owl is the second-largest owl in Canada, next to the snowy owl. The female is considerably larger than the male.
This raptor is a formidable hunter and has few natural enemies, though it can be injured when attacking larger prey such as porcupines, skunks or snakes.
Researchers have established that over 90 per cent of banded great horned owl nestlings had moved less than 80 kilometres when later recovered as adults.
An early nester, the great horned owl lays and incubates eggs well before the snow disappears and will aggressively defend its nest.
Shootings and collisions with power lines and highway traffic are the major causes of death for this species. Great horned owls that die of natural causes can reach a great age.
The great horned owl remains so widely distributed and remarkably tolerant of major habitat disturbance by people that its future seems secure.