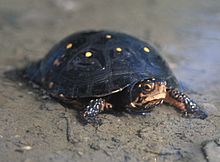 Scientific Name:
Clemmys guttata
Description:
Moderately domed upper shell. The upper shell and head are covered with small yellow or orange spots. The limbs and tail are black with varying amounts of yellow or orange.
Size: 9-12 cm
Photo Gallery:
Range:
Ontario
Habitat:
The Spotted turtle is semi-aquatic. They reside in ponds, marshes, bogs and even ditches with slow-moving, unpolluted water provided that they have an abundant supply of aquatic vegetation. These turtles can be found in shallow, slow-moving ponds, marshes, swamps, bogs, ditches, vernal pools, and wet meadows.
These versatile turtles can be found in different types of wetlands depending on the types of habitats that are available.
Diet:
The spotted turtle eats both plants and animals. Plants include aquatic vegetation and green algae. Animal food includes aquatic insect larvae, worms, slugs, millipedes, spiders, crustaceans, tadpoles, salamanders, and several genera of small fish.
Behaviour:
When turtles reach sexual maturity, sometime between 11 and 15 years of age, they make the trek to ponds, bogs and marshes in late May and early June, hoping to find a potential romantic partner.
In mid- to late June, females spend their evenings preparing their nests in shallow dirt, making their niche comfy with lichen, moss and litter. Averaging five eggs per clutch, the young are considered tasty treats by a range of predators including raccoons, red foxes, skunks and even ants. It's a tough life for eggs and juveniles, and many don't make it to adulthood; therefore, conserving the adult population is crucial.
Status:
Committee on the Status of Endangered Wildlife in Canada (COSEWIC) listed the species as endangered in 2004.
Threats and What You Can Do:
No matter how tough their shells are, these reptiles are struggling for survival as they are faced with threats such as road mortality, predation, agriculture and pollution. Moreover, habitat destruction and capture for the pet trade are heightened when turtles congregate for breeding in the spring and hibernation in the fall. In the last 40 years, their numbers have declined by 35 per cent.
Notes:
The spotted turtle (Clemmys guttata), has 104 populations. Females have orange eyes and chins while males have brown or black eyes and chins.
References:
---