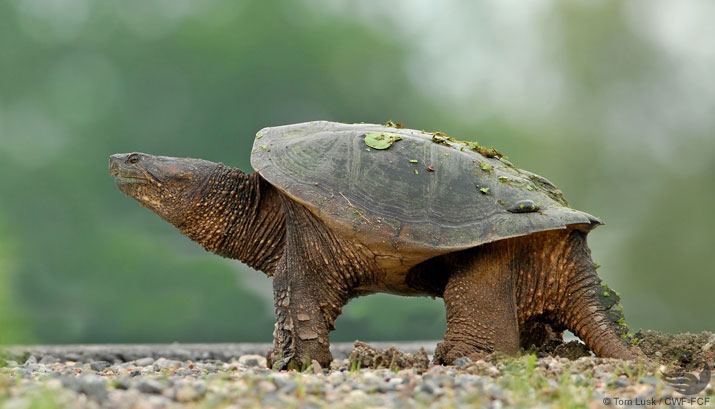 Scientific Name:
Chelydra serpentina
Description:
Largest freshwater turtle in Canada. Distinguished by their large head and hooked upper jaw. Upper shell has three prominent ridges running length wise. The tail can be nearly as long as the shell and is adorned with triangular shaped projections that protrude from the top.
Size: 20-50 cm
Photo Gallery:
(Please note — these photos are unverified images submitted by members of the CWF Photo Club.)

Range:
Southern Saskatchewan to Nova Scotia
Habitat:
Snapping Turtles prefer shallow, slow moving lakes, rivers, ponds, and wetlands with dense vegetation and a muddy bottom.
Diet:
The Common Snapping Turtle isn't a picky eater. Items they eat include aquatic plants, fish, frogs and tadpoles, salamanders, insects, snails, leeches, worms, snakes, small mammals, and baby ducks and goslings. They will also eat carrion (dead animals).
Behaviour:
Nesting season happens from early to mid summer and it sees the female travel on land to find a suitable nesting site. Preferably sand or gravel and near streams the snapping turtle will actually make sure of man-made structures for nest sites including including roads (especially gravel shoulders), dams and aggregate pits.
Status:
Special Concern
Notes:
Taking upwards of 15-20 years to mature, female Snapping Turtles lay more eggs (40-50) than any other freshwater turtle in Canada. In spite of this, it is common for entire nests to be lost to predation or cold temperatures.
References:
---