With topics relating to conservation, wildlife and habitat, we provide a relevant online learning platform, typically for grades four to six, but of benefit to any age. WILD Webinars are informative, engaging and just the right length at 20 to 30 minutes. Our Hinterland Who's Who iconic species series is just one example of the quality content we have to share.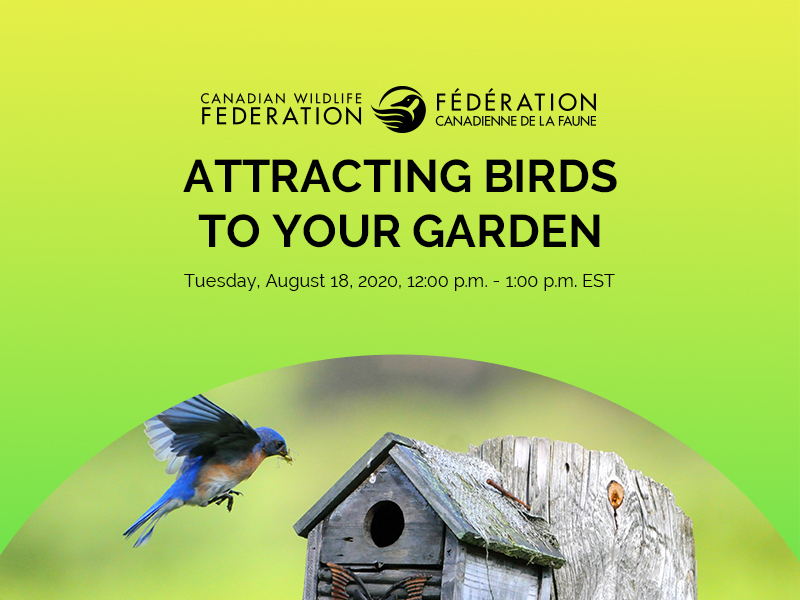 Attracting Birds to Your Garden
Join the Canadian Wildlife Federation as we share tips and tricks to support your local and migratory birds. Adding certain habitat features to your garden can also enhance the visual appeal of your outdoor space. As a result, we get to enjoy the beauty and antics of our winged neighbours as well as benefit from their important pest control services and, in the case of hummingbirds, some pollination help as well.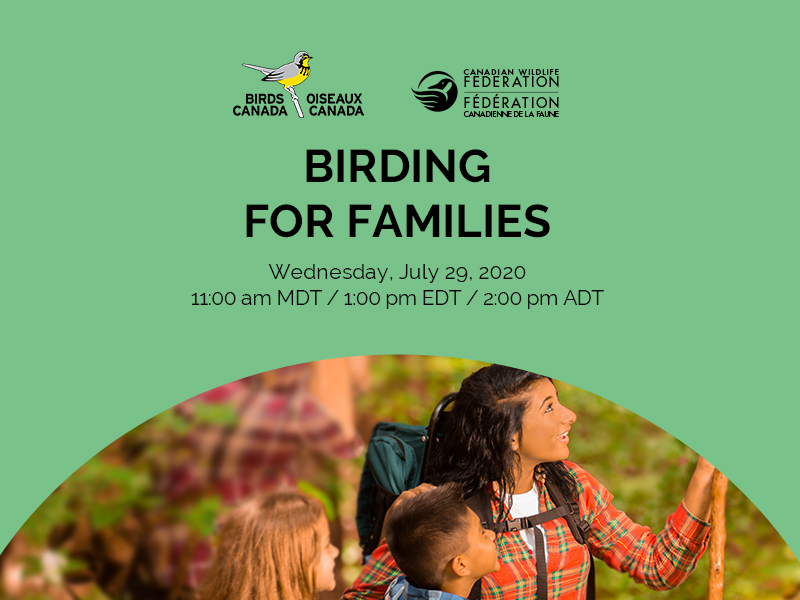 Birding for Families
Looking for new ways to get outside with your family this summer? Birdwatching offers a great opportunity for you and your kids to connect with nature close to home. The best part? Birds can be found everywhere! Whether you live in a downtown high-rise or in the country, you've likely seen or heard one of our feathered friends close by. Join Birds Canada and the Canadian Wildlife Federation for a family-friendly introduction to the world of birds and gain practical tips and resources to help you get started with birding. All that you need is a keen eye, a few basic resources, and your curiosity! Both adults and children are welcome to attend!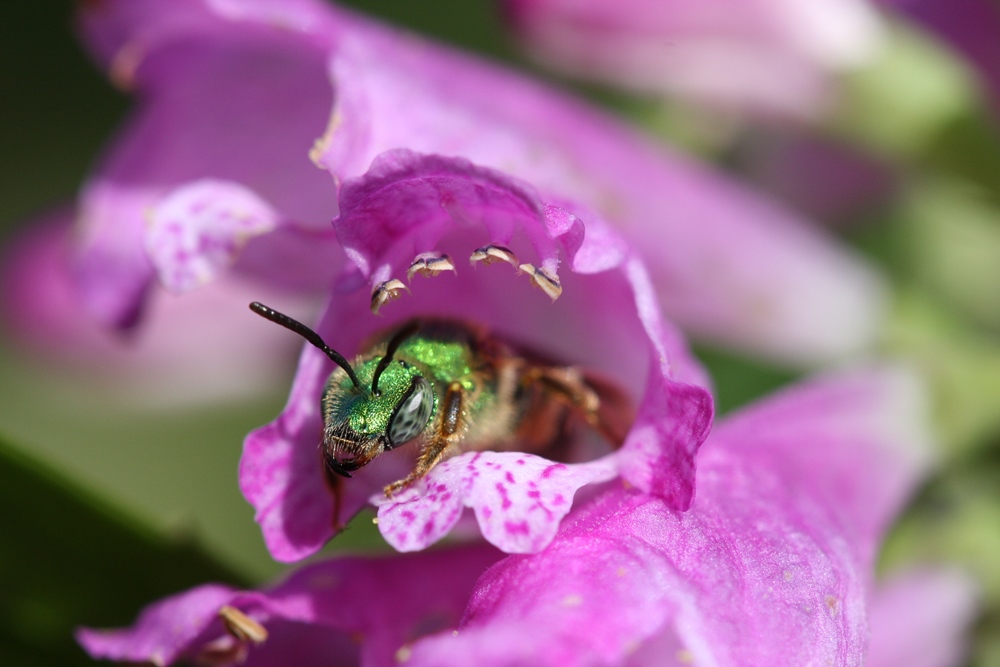 Discover Canada's Native Bees (French Only)
Join Cécile Antoine -PhD Candidate in Biology at UOttawa- on her journey to discover native bees that you may encounter in your gardens and parks around Ottawa, or the rest of the country. Cécile will share her passion by giving details on the biology and ecology of wild bees. She will also explain her research findings on bees that nest in the ground, which represent ¾ of the species, and is the focus of her studies. Learn more on how to support wild bees by attending this webinar!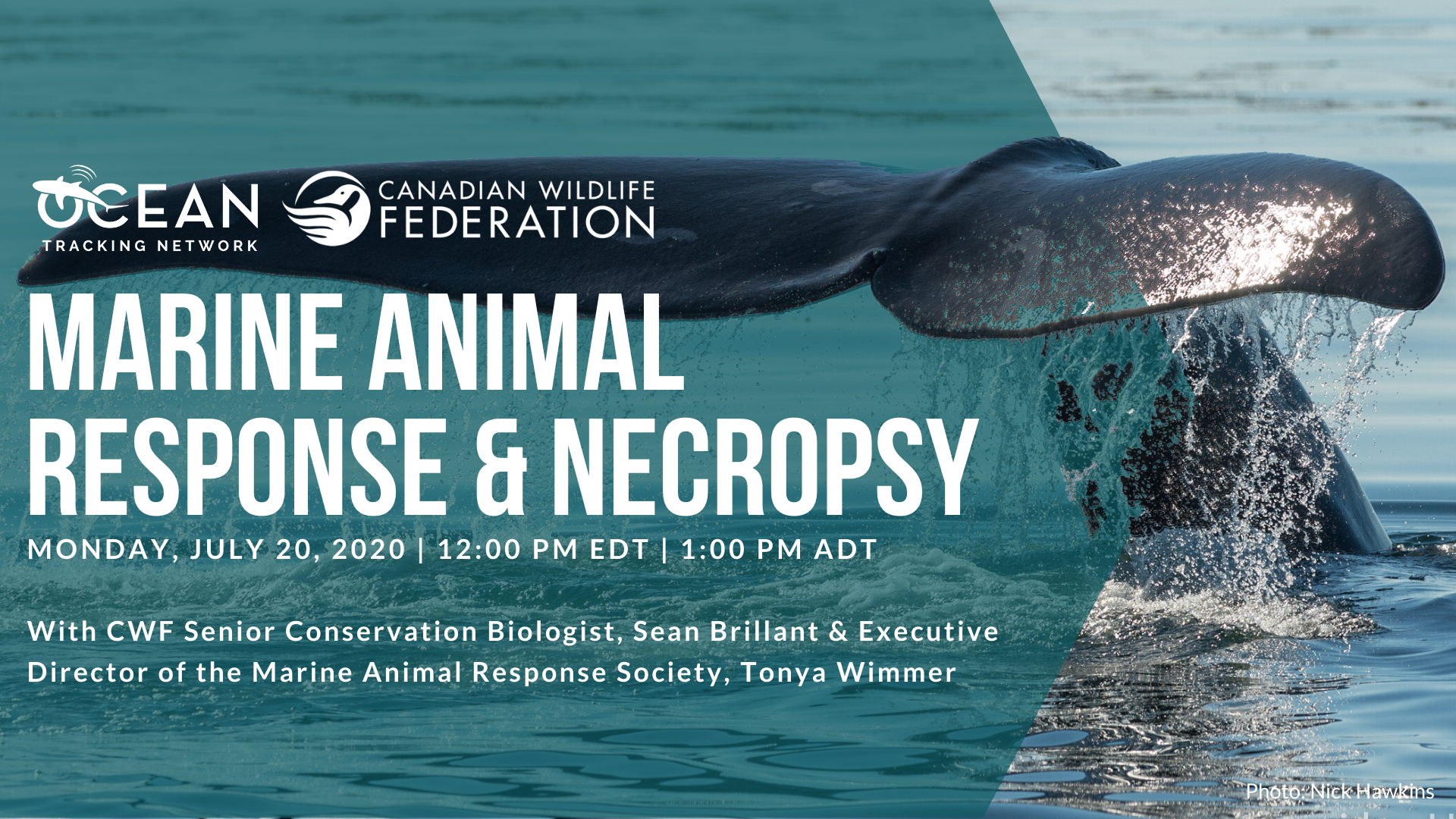 Marine Animal Response & Necropsy Webinar and Q&A
Every year, more than 1,000 marine animal incidents are reported in Canada. Sean and Tonya will discuss the importance of responding to marine animal emergencies, and the essential conservation role you and other Canadians can play by reporting incidents. Sadly, some of these incidents have tragic endings. When a marine animal dies, a necropsy (or autopsy) can help us better understand and conserve marine wildlife. Tonya will share her experience participating in North Atlantic Right Whale necropsies, and we'll discuss ways we can work together to conserve this important and critically endangered species.
Species at Risk in Canada: Lending a Helping Hand with James Pagé
Join us for an evening all about species at risk with James Pagé from the Canadian Wildlife Federation (CWF)! James will lead a Zoom webinar with a focus on species at risk in Canada, CWF's recovery work and Citizen Science. Participants will then have the chance to ask their questions through an interactive Q&A session. Begins at 7pm. Approximately 1-1.5 hours. Space is limited.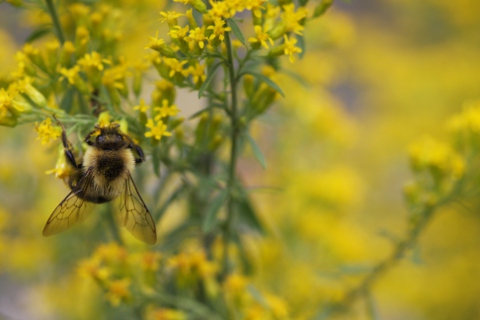 'Gardening for Pollinators' Webinar
Gardening is one of the simplest and most profound ways you can connect with nature. Thankfully, you have pollinators as allies to support you in your efforts. Join the Canadian Wildlife Federation as we take a look at Canada's seven kinds of pollinators. You'll discover their remarkable behaviours, their importance to our economy and well-being, and how you can help these allies in the simplest of ways.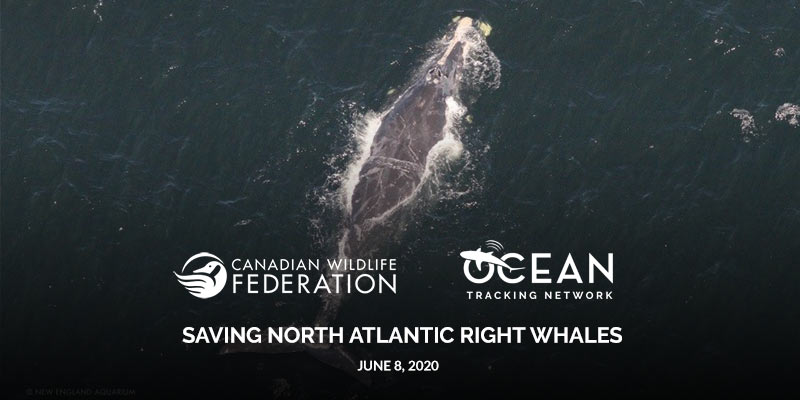 Saving North Atlantic Right Whales
Join the Ocean Tracking Network (OTN) and the Canadian Wildlife Federation (CWF) on World Oceans Day for a talk on the North Atlantic right whale—one of the most endangered whales in the world—that relies on the plankton-rich waters of the Maritimes, and faces dire threats from ship strikes, fishing entanglements and climate-driven changes in food sources and habitat. Historically found throughout the Atlantic Ocean, today North Atlantic right whales overwinter and calve in the south between Georgia and Northern Florida, and move north to Canada to feed in the plankton-rich waters of the Bay of Fundy, off the Scotian Shelf, and in the Gulf of St. Lawrence in the summer. After centuries of whaling, populations of some whale species have rebounded, but entanglements and ship strikes remain a serious problem for the conservation of large baleen whales, including for North Atlantic right whales. Due to human-induced stressors as well as lower calving rates since 2010, experts predict that right whales could become extinct in as little as 20 years. Tune in to learn more from Canadian Wildlife Federation's right whale expert Sean Brillant about how we can work together to ensure a future for this iconic and critically endangered species.
Plant It and They Will Come
How one woman discovered the joys of creating a wildlife-friendly garden. Join CWF as Berit Erickson, pollinator garden blogger, shares her urban garden's transformation from ornamental to wildlife-friendly. Discover how much easier it was than she thought and all the benefits she and her family now enjoy. So if the idea of creating a wildlife-friendly garden is daunting to you or you just want to get some new ideas, join us for this informative and inspiring webinar.
Invasive Species: Something Fishy in Canada's Lakes & Rivers
Grades 2-9, Science, Animals, Environmental Stewardship Join the Canadian Wildlife Federation (CWF) and the Centre for Global Education as we investigate what's happening in Canadian rivers and oceans. Our conversation will cover the roles of different species, how invasive species impacts local ecology, and what we can do to better support at-risk habitats.
Wildlife-friendly Gardening
Learn simple but powerful ideas to make your garden more wildlife-friendly and discover why it is so important, now more than ever! Whether you're keen to attract more birds and butterflies, want tips for choosing beneficial plants or if you're planning to apply for CWF's Garden Habitat Certification but needed a little more help, this webinar is for you.
Browse through our archived webinars: