Handouts, guides and infographics, CanadianWildlifeFederation.ca offers a variety of useful downloads for your PC and mobile devices.
Coasts & Oceans
Connecting With Nature
Education & Leadership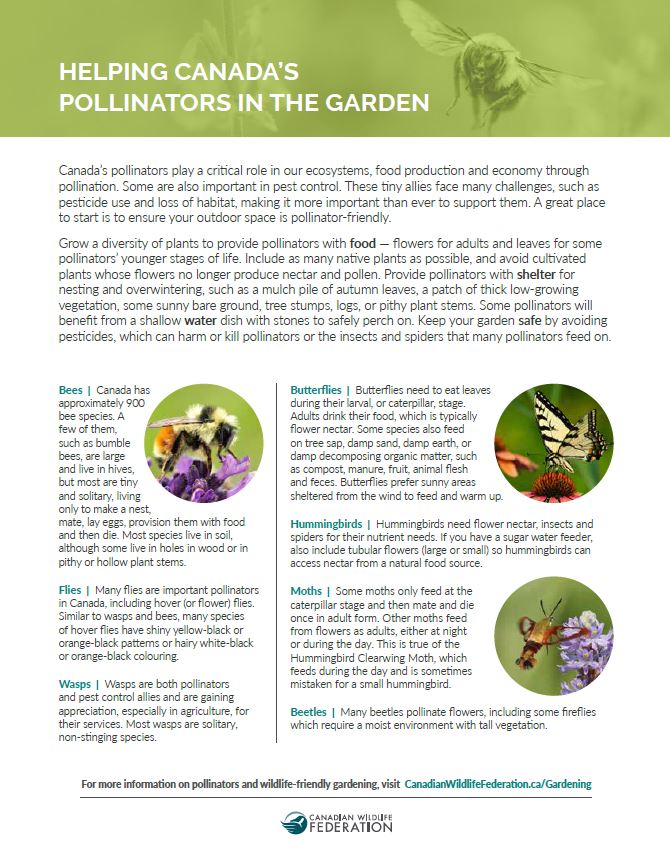 Helping Canada's Pollinators in The Garden
Canada's pollinators play a critical role in our ecosystems, food production and economy through pollination. Some are also important in pest control. These tiny allies face many challenges, such as pesticide use and loss of habitat, making it more important than ever to support them. A great place to start is to ensure your outdoor space is pollinator-friendly.

Hinterland Who's Who Fact Sheets
Check out the facts for amphibians and reptiles, birds, fish, mollusks, insects, pollinators and mammals! We've even got information specific to species at risk, the boreal forest species, and species affected by climate change! So why not learn a little bit more about these Canadian creatures
Endangered Species & Biodiversity
Forests & Fields
Lakes & Rivers