By Jennifer Smart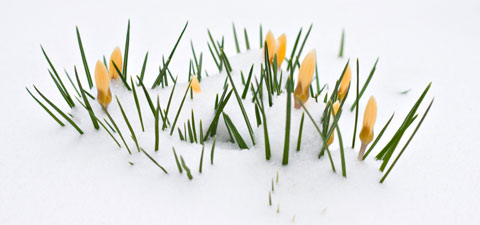 Spring. Leading groundhog authorities and the calendar tell us it's just a few weeks away, but depending on where you are in Canada, looking outside your window might bring on more of a spring chill than spring fever. As unpredictable as Mother Nature can be at this time of year, we do know that she won't let us down. With the promise of warmer weather, singing birds and blooming flowers just a short wait away, make sure you keep your eyes open for these sure signs that spring has sprung.
Honk if You See Geese
A long-time symbol of Canada, the unique call and colouring of the Canada goose is a sure sign of spring's return. Although some geese remain in southern Canada to overwinter, most travel further south before making the journey home to help welcome the changing of the season.
Rockin' Robins
With a habitat range spanning nearly all of Canada, the robin is one of our country's most common and delightful signs of spring. As the snow begins to thaw, watch for this little bird's distinctive red breast and listen for its cheery chirp.
Learn more about Canada's native bird species with our Wild About Birds I and II posters!
Crocus Pocus
If you've ever lived through a cold prairie winter you know what a welcome site the Prairie crocus can be. Found in the Yukon, Northwest Territories, Alberta, Saskatchewan and Manitoba, this small, purple flower is a harbinger of the growing season to come.
Learn more about Canada's native wildflowers with our Wild About Wildflowers poster!
How Sweet It Is
Canadians in the eastern part of the country start their spring sweet tooth salivating with the arrival of maple syrup. Produced from the sap of the native sugar maple, maple syrup is a delicious addition to the spring lineup.
Share signs of spring sightings in your area! Or upload your photos to the Reflections of Nature photo contest!
Tell us what what signs of sping you've seen!
Your Comments: