By David DeRocco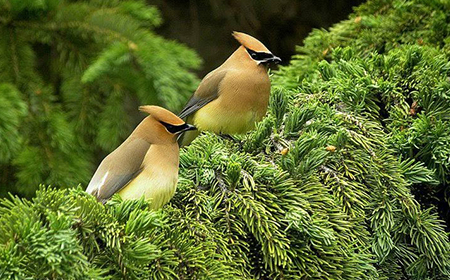 Planting a garden designed for aesthetic appeal is a great way to enhance and beautify your natural surroundings. Planting with purpose and making that same garden a welcoming habitat for birds and other wildlife is an even better idea. Thankfully, with help from the Canadian Wildlife Federation (CWF), you won't have to "wing it" when it comes to designing and planting a garden with birds in mind.
Why You Should Garden for the Birds
Before you begin, it's important to know why you might want to attract birds to your garden in the first place. If you subscribe to the theories forwarded by the likes of Alfred Hitchcock and Edgar Allan Poe, you might think birds are scary creatures – ones that can swarm innocent towns, tap tap tap incessantly on chamber doors and, on occasion, leave presents on your car, build nests in your verandas and chirp you awake at sunrise. Not so according to CWF Wildlife Biologist Nathan Clements, who says there are real scientific benefits to attracting birds to your urban landscapes. "Birds are a key component in providing backyard ecosystem services," explained Clements. "A diverse population of local birds can help to pollinate your flowers, act as natural insect control and disperse fruit seeds."
Another reason why planting bird-friendly gardens is so beneficial is because in doing so you are actually replenishing habitat for local and migratory wildlife that wouldn't otherwise be there. As more land is developed for human activities, every wildlife-friendly garden becomes a potential haven that can also serve as a stepping stone between larger areas of important habitat. This is essential to the survival of many species including native Canadian birds, populations of which are in decline for a variety of reasons according to Clements.
"There are a host of threats to bird populations in urban areas. Cats are a deadly predator, window strikes are a common occurrence and chemical pesticides have shown to negatively influence survival. The good news is that most threats can be mitigated."
What You Should Plant
You can begin to contribute to that mitigation process the moment you start planning your wildlife friendly garden, incorporating elements that attract birds and other beneficial species to your property. From songbirds like robins, chickadees and sparrows, to woodpeckers, waxwings and colourful favourites like blue jays and cardinals, planting a diverse collection of plants can attract a wide range of bird species.
"Many trees, shrubs and even perennials will support a myriad of birds," explained CWF Education Specialist Sarah Coulber. "Some will provide fruit, others nuts or seeds and all will provide a place for insects and spiders, which are important for warblers, hummingbirds and others. Tall plants like trees and shrubs can also provide shelter for nesting, resting and areas for avoiding the elements. If, however, you have a favourite bird that is known to inhabit your area, by adding its preferred plants you stand a good chance of enticing it to visit or live as well."
To inspire gardeners and birdwatchers alike to plant more bird-friendly gardens, CWF, in collaboration with our partners at Niagara-based Willowbrook Nurseries, has introduced our new WILD About Birds line of trees and shrubs in 2019 which are being sold exclusively through Home Depot locations across Canada. The plants were chosen specifically for the benefits they offer to bird populations and other wildlife species. For example, the Toba Hawthorn is a deciduous tree that provides valuable cover as well as foraging and pertinent nesting habitat for a variety of birds; in addition, the tree's early spring flowers provide an important source of nectar for butterflies, bees and ants, while its berries offer a high quality food source for birds.
Species such as Serviceberry, Bur Oak, Shumard Oak, Silver Maple and Red Maple are just some of the trees now available as part of the collection. When you are planting them in tandem with the CWF line of neonics-free Medallion Pollinator Plants (also available at Home Depot), you will have already included many of the key elements necessary to qualify your garden for "Garden Habitat Certification." According to CWF Education Program Coordinator Melissa Lefebvre, receiving a "Garden Habitat Certification" from CWF means your garden contains the necessary elements that need to be present for a garden to be truly wildlife friendly.
"People and wildlife share the same basic needs," said Lefebvre. "Food, water, shelter and adequate space to live and grow are key. We can create more space for wildlife in our gardens and other outdoor areas when we make an effort to provide these basic needs. Many gardeners are already doing many positive things to help wildlife and may not even realize it."
If the thought of a wildlife-friendly garden has you imagining an endless parade of geese, deer, coyotes and bears coming to your yard, don't worry. Many of the wildlife species attracted to such gardens often go unnoticed. For example, a garden rich in pollinator plants will not only attract native bees, butterflies and moths, but also beneficial insects like lacewings, lady bugs and ground beetles that help control pest species. Depending on where you live, your wildlife friendly garden could also soon be home to amphibians like frogs or salamanders, reptiles like snakes and turtles that eat garden pests, or small mammals that eat insects and seeds that also provide food for larger animals.
The short term costs of planting bird and wildlife friendly gardens pay off in long term benefits. In addition to the obvious visual appeal of such diverse garden installations, wildlife that visit your garden will provide you with free garden labour by helping keep insects at bay, free pollination services to ensure healthy plants and, with help from many bird species, free transportation of nutrients and seeds from one ecosystem to another to help native plant populations thrive. Not only that, you'll also be playing a big role in supporting urban conservations efforts according to Lefebvre.
"Providing wildlife-friendly habitat in our gardens is a simple way for an individual to help wildlife in a way that can have significant impact. Habitat is being replenished in areas where people live, work and play, that wouldn't otherwise support wildlife."
The Canadian Wildlife Federation encourages anyone who maintains an outdoor space to apply for CWF's Garden Habitat Certification. Certified gardens raise awareness, inspire others to help wildlife and help demonstrate our collective impact, as CWF adds to a map of certified properties across Canada. To apply and learn more, visit CanadianWildlifeFederation.ca/certification.