By Jerika Bradford
Canada's winters can be challenging for all of us but especially for wildlife who can struggle to find food, water and shelter from the cold. Species that don't migrate or hibernate have to adjust their habits to survive the winter. The colder it is, the more energy it takes to stay warm. And the more energy animals expend staying warm, the less energy they have to search for food and escape from predators. To help, here are a few easy ways you can make your property a safe space for wildlife this winter.
Feed the Birds
Help your backyard birds by keeping your feeders full of nutrient-dense food, such as CWF's Songbird Medley. A high quality seed mix rich in unsaturated fats and fatty acids helps our winged friends to store enough fat and energy to stay warm during our frosty winters.
Note that it is generally recommended not to feed other wildlife. Doing so can make animals dependent on handouts, provide them with improper nutrients, attract other less desirable animals, and cause them to lose their natural fear of humans by associating humans with food.
Keep Your Christmas Tree
Don't curb your Christmas tree right away. If possible, consider recycling your tree in a brush pile on your property. This helps to provide dense habitat for birds, rabbits and other wildlife to hide from predators and to escape the cold, blustery weather. If you don't have a Christmas tree, you can still provide a winter shelter for wildlife by building a brush pile with branches, boughs and other vegetation. Just follow the instructions on our website.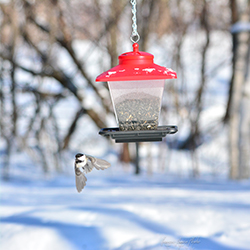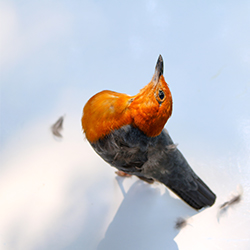 Help the Bats
Help Canada's bats survive winter by not evicting them from any buildings on your property. If you discover bats in your house during winter, it likely means they are hibernating. Evicting bats now won't allow them enough time to find an alternate hibernation site, and these little mammals will freeze. Do not touch a bat if you find one in your home. If pets or humans have come into contact with a bat, a public health professional should be contacted, and the bat should be kept in a safe location to prevent further contact until it is determined whether the bat should be submitted for rabies testing. If contact has not been made and temperatures are above freezing, the bat can be released outside. If temperatures are below freezing, it should be transported to a wildlife rehabilitation centre. Learn more in our Winter Bat Blog.
Use Window Decals
Windows can be extra reflective in winter when the sun reflects off the snow. Help prevent birds from flying into your windows by adding window decals to make the glass less reflective. You can even make DIY decals by arranging colourful tape in irregular patterns.
Break the Ice
Many water sources, such as ponds and lakes, freeze over in winter, and moist foods such as plump leaves and fresh berries are unavailable. This makes it challenging for wildlife to stay hydrated through winter. If you have a pond that freezes over, melt a hole in the ice by carefully pouring boiling water in a saucepan and placing it on the ice until a hole melts through. Once you remove the saucepan, you can prevent the hole from freezing over by floating a ball or investing in a bubbler. Breaking the ice helps to release toxic gases that can build up and kill wildlife hibernating in the pond. It also provides a drinking hole for thirsty wildlife.
Provide Fresh Water
If you don't have a small pond, consider leaving a small dish of fresh water on the ground daily to help birds and other wildlife stay hydrated. You should ideally leave the dish in a location with plenty of sun so it doesn't freeze over too quickly.
Any tips we didn't mention? Tell us in the comments below!