By Paul McLellan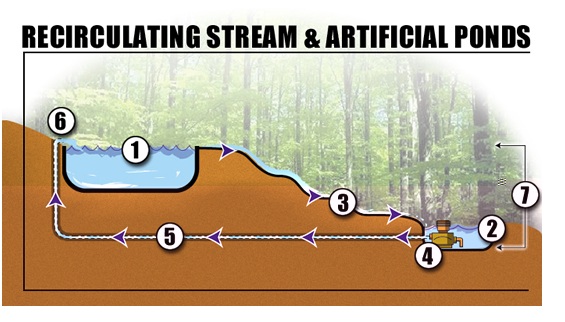 By Paul McLellan

Cascading water enhances a garden and attracts a larger variety of birds. The sound of a gurgling stream is an intoxicating draw to both people and wildlife. It enhances relaxation and helps filter out background noises that invade our lives.

Creating a re-circulating stream is easier than it might seem. Costs can be kept at a minimum by using local material such as sand and rocks. The addition of native vegetation provides wildlife with a natural food source in addition to the fresh water. Creativity is key to building something you will enjoy forever.
Tips for Success
Start small and slowly build on to your project. This way your mistakes are easy to correct. Plan things in manageable increments. Start with an artificial pond with a fountain created with a submersible pump. Once you have mastered this you can add another pond with a stream to connect it to the first pond. A return hose provides a continuous supply of moving water.

Select a site that is pleasing to you and your family, a place where you can enjoy your stream while relaxing on a screened in porch, verandah or gazebo. Keep in mind that you will need a nearby electrical outlet with ground fault interruption. Also, try to take advantage of water run off from rooftops, walkways, or other hard surfaces for a natural supply of water.

Make drawings of your ideas and discuss these with other family members. When you are satisfied with the plan, make a real size mock up out of cardboard and other waste materials. This will give you an accurate and realistic picture of your project before you spend any money. It will also help in estimating the required volume of materials such as rocks and sand.

Organize all your materials before starting. You can save money by being patient and shopping around. Opportunities exist to obtain free fill, stones and plants. Most other items such as pumps, sprayers, hoses etc. go on sale at the beginning and end of the gardening season.

Plan your project so it is easy to disconnect the power, remove the pump, and drain the system for winterizing and periodic cleaning.
Then finalize your plan with a local supplier of ponds and pumps.
Materials Required (Approximate)
2 pre-fabricated ponds - one 50 gallons, one 200 gallons - or sufficient pond liner.
One re-circulating pump 100 to 200 gallons per hour.
Return hose and connections.
Rubberized liner for the stream-bed.
Landscape fabric.
Flat stones for cover.
Assorted stones for stream-bed.
Garden accessories such as planters, bench, and gargoyle.
Perennials and shrubs.
Approximate steps to building a re-circulating stream
Place the two ponds in position. You may choose to construct ponds using a liner or opt for pre-fabricated ponds. (If using pre-fabricated ponds, which are too steep-sided for wildlife, add logs or other material to allow wildlife, such as toads, to climb safely out of the pond.) In either case, ensure there is at lease 6" of sand underneath to prevent any debris or rocks from puncturing the ponds.
Dig out or fill in where necessary to create a stream-bed between the two ponds. Make sure the stream-bed is 4" deep and 6" across at the bottom. A sloped bank works best. The length of the stream-bed depends on the amount of drop or grade you have between the two ponds (7). I recommend three feet of stream for every foot of drop but it is not absolutely essential.
Install the electricity supply. SEEK QUALIFIED HELP
Place the pump (4) in the lower pond (2) and hook up the return hose (5). Run the return hose to the upper pond (1) and bury it shallowly. Ensure that the hose will drain entirely when disconnected at the pump for winter.
Install the stream liner (3). Overlap liner pieces to prevent leaks.
Test the stream using a garden hose to ensure there is good flow and no leakage or overflow on the sides.
Place the end of the return hose slightly out of the water to create a rushing water effect (6).
Ensure both ponds are LEVEL and backfill around them with sand or other soft, organic material. Compact the material as much as possible to prevent later sag and droop. It is advisable to stop the project at this point and allow things to settle. Observe what happens when it rains. You may want to thoroughly soak the area to test for deficiencies. This is a good time to collect your plants and rocks.
Once the ponds are level, the stream is running true, and all systems are working properly you can begin to install heavier rocks, benches, or other garden accessories.
Use heavy landscape fabric under and around the ponds to prevent unwanted vegetation.
Place flat rocks on the edges of the ponds and stream as required. Use them to hide hose entrance, exit, and all cords.
Enhance the appearance of your stream-bed by adding some smaller stones.
Plant some native vegetation that will provide birds and pollinators with food.
Spend quiet time near the ponds reading or listening to the birds.
Maintenance
Ensure there are no water leaks from the ponds or the stream-bed. There will always be some loss due to aeration and evaporation, so you may want to use an automatic valve and hose to keep the lower pond topped up. Please consult a local pond retailer for the proper product and installation.
Devise ways of keeping debris out of the pond, especially the lower one with the pump. You can either use a screen or regularly unplug and remove the pump to clean the bits of vegetation that get caught in the intake. Keep a small web net nearby to scoop out any floating debris.
Refresh water regularly. I use the warmer water in the pond to water plants and trees by pail and refresh the pond via the garden hose.
To winterize, unplug and remove the pump, ensure the hose is drained and bail out half of the water in the pond. This is a good time to give the sides and bottom a scrub to remove algae build-up.
In the spring, use your pump to empty the ponds then refill with fresh water. Test for leakage.

Enjoy your ponds and re-circulating stream!