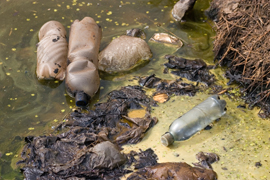 Think of rivers, lakes, and streams, as the blood vessels of the Earth. They carry nutrients from one part of the planet to another; in doing this they wash out toxins and return life-giving oxygen into the system. Unfortunately, just as your bloodstream can be poisoned, so can water, and for years we have been contaminating our rivers and streams with chemicals, covering marshes and swamps with subdivisions, and wasting water as if we had a free and endless supply.

There are about 100,000 chemicals in use around the world today. About 1,000 new ones come on to the market each year, and one way or another, many of those chemicals make their way into the Earth's water supply. Sewage you flush down the toilet ends up in rivers; barnyard manure and lawn fertilizers trickle into streams; and tonnes of chemicals from industries gush into lakes. Dishwasher and laundry detergents cause algae blooms that deplete oxygen in our waters. Acid rain, oil spills, salt on our icy roads, and many other substances end up in our unsuspecting water systems.

When we dump chemicals into wildlife zones we harm them, and because everything is connected, we harm our own habitats as well. Consider this: Mercury is dumped in a lake and absorbed by organisms and insects; the organisms are eaten by small fish; the small fish are eaten by bigger fish; the bigger fish are eaten by people like us. Harmful mercury comes along for the ride and makes us seriously ill. For ourselves and all of wildlife, we must stop taking water for granted and start treating it like liquid gold. We cannot afford to waste or pollute our life-giving water any longer.