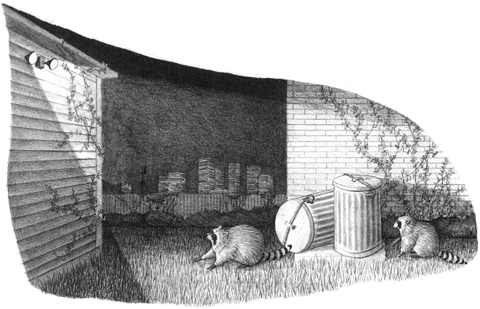 Background
Raccoons are very comfortable living near people. In Ontario cities, there are usually eight to 16 of these mammals per square kilometre. In some areas, that number is as high as 85! In rural districts, the population density ranges from four to 20 per square kilometre.
Cute but pesky, raccoons sometimes make their dens in houses, cottages, garages, and sheds. Occasionally they cause serious property damage. It's wise to keep a safe distance from any wild animal, but the risk of raccoon rabies makes it especially important.
Procedure
If raccoons are making a nuisance of themselves in your area, or if you live where raccoon rabies is a threat, here's a checklist to manage the problem effectively:
Cover up possible entrances, such as uncapped chimneys and openings in attics, roofs, and eaves. Sprinkle flour around suspected entrances and look for footprints later to see where raccoons are getting in. Stuff rags or paper in suspect holes, and watch to see if they're removed.
Be sure all raccoons and other animals have left before sealing up any holes - especially between May and July, when young are being raised.
Block entrances with sheet metal or place heavy rustproof screening over air vents and chimneys.
Use a strong bungee cord or heavy weight to secure the lids on composters and garbage cans.
Dispose of garbage as frequently as possible.
Hang ammonia-soaked cotton rags near den entrances.
Trim tree branches or modify other structures that animals might use to get to the roof.
Install a motion sensor light in an area where raccoons appear frequently. Such devices are reasonably priced and provide a far more effective deterrent than lights left burning all night long.