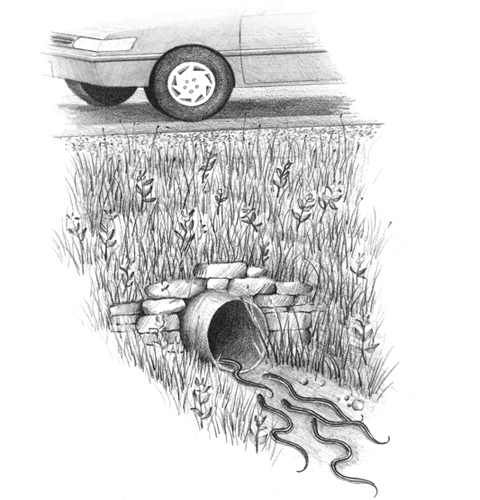 Background
We disturb a lot of plants and animals with our busy building projects. All sorts of wildlife - from bugs to bears - are killed while crossing roads. Sometimes we can help these animals dodge traffic by building special routes for them.

In Alberta's Banff National Park, huge underpasses allow deer and elk to cross the busy Trans-Canada Highway safely. In England, tunnels have been built under some roads to provide safe passage for toads.

A new roadside curb seemed like a towering cliff to thousands of rare long-toed salamanders in Waterton Lakes National Park, Alberta. The amphibians were trying to cross the road on their way to a lake to lay their eggs, but when they couldn't scale the new obstacle, some were squashed by cars. Volunteers finally lifted 1,200 of the stranded critters over the curb. Since then, cement ramps have been installed along the roadside to clear the way for the spring rush of salamander traffic!

In Manitoba's Narcisse Wildlife Management Area, wildlife officials discovered that thousands of red-sided garter snakes were being killed on the provincial highway after they left their underground wintering hibernacula. Tunnels have since been placed beneath the road to allow the snakes to travel safely to and from their winter dens.

Is there a small migration happening near you? Some signs you might see of a migration in progress are unusual numbers of frogs hopping across a street in spring and fall or, sadly, a lot of squashed bodies on the pavement.

Procedure
Here's how you can help migratory species in your area:
• Be watchful in spring and fall for signs of small migrants - turtles, snakes, frogs, toads, salamanders, and so on.
• Ask your local wildlife officials if they know of any local migrations.
• Make the migration a community event. If a species must cross a road or another dangerous area near you, educate the public about the situation.
• It may be possible to temporarily close off the area to the public or reroute traffic until the migrants have safely passed. Check with the proper authorities before making such a move.
• Consult with wildlife biologists for details on migrant species and for ideas on how to keep them out of harm's way.