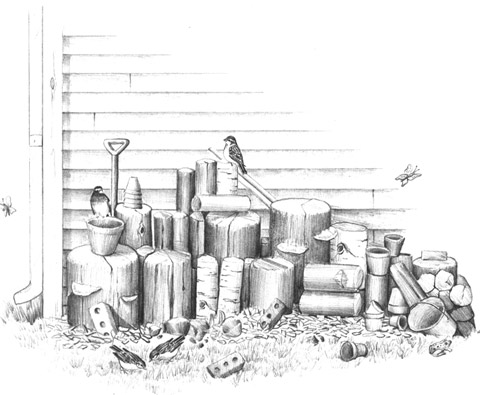 Background
A simple log pile habitat is an easy way to attract a diversity of wildlife to your backyard, and a great project to try out - even if you're working with limited space.

You'll be surprised at how many species this simple habitat attracts. Snails, slugs, toads, and an assortment of other creatures will use the nooks and crannies as hideouts. Fungus will grow on some of the logs. Spiders will make webs, small mammals like voles may nest among the logs, and birds will hunt for insects. Even small critters like isopods will find food under the moist bark, logs, and leaves. Commonly mistaken for insects, isopods are actually crustaceans, and related to lobster and shrimp. These harmless creatures - sometimes called sow bugs, wood lice, or roly-polies - chew up rotting plant matter and enrich the soil with their excretions.

Procedure
• Choose a protected spot - under a tree, against a building, beside a fence or wall, or at the edge of a wooded area.
• Spread bark chips on the ground where your logs will be. Make the habitat as big or as small as you'd like.
• Find recently felled or cut logs of varying lengths from different types of trees. Arrange the logs mostly on end, with a few lying lengthwise and taller logs at the back.
• Anchor the logs with a stake or by planting the vertical ones in the ground so they can't be tipped over.
• Place flower pots, bricks, rocks, and lengths of pipe amongst the logs to provide hiding spots and passageways. Leave spaces of different sizes between the various odds and ends.
• Put a small pile of twigs and a heap of leaves beside the logs.

Maintenance
Disturb the log pile habitat as little as possible. Add material from time to time (when necessary).