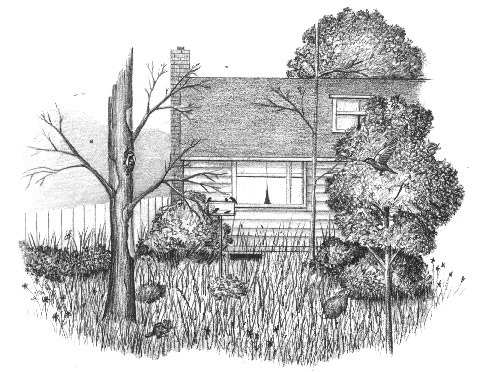 Background
Succession is what happens when, over many years, one type of habitat changes gradually and naturally into another. As certain plant species are replaced by others, succession turns an abandoned lot into a small forest. Succession can also transform a small pond into dry land, or an area burnt by fire into a lush, green space again.

As a habitat gradually changes, so does the wildlife that lives in it. Species that live happily on farmland may move on to another spot when succession begins to work its magic. Slowly, the changing land becomes home to different wildlife species. Succession is a persistent occurrence in nature.

Procedure
If you want to help wildlife but feel you do not have the time, money, or energy necessary to do something about it, this project is perfect for you! Simply stop mowing a portion of your lawn and let succession do the rest. It would be great if you could throw away the lawnmower altogether, though that might cause an uprising in your neighbourhood. Instead, mark off a portion of your lawn to be left alone. Inform your neighbours that you're doing a project for wildlife. This may encourage them to get into backyard habitat improvement as well.

Maintenance
Sit back, relax, and watch the changes succession brings throughout the weeks, months, and years. For fun, you may want to keep track of the kinds of plants and animals that start to use your maintenance-free succession plot.