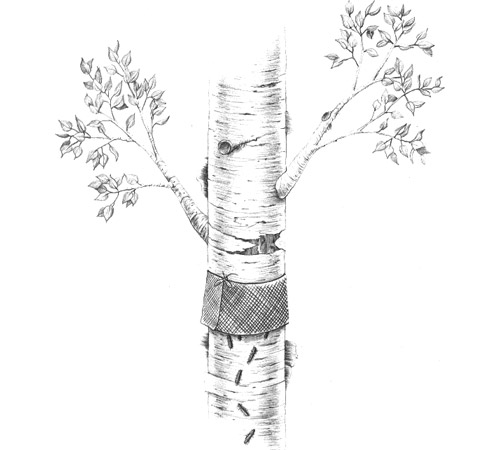 Background
Every year, we lose millions of hectares of trees to insects and disease. A loss of trees means a loss of wildlife habitat too. For the most part, insect infestations occur on weak trees. Strong, healthy trees are less vulnerable and usually recover if they do get infected. One exception to this rule is Dutch elm disease, which inevitably affects mature elm trees.

Chemical controls for the majority of the problems below are too often the first line of defence against unwanted insects. The results are temporary and the effects on non-target species can be detrimental. To keep insect problems under control, it makes more sense to attract natural insect predators than to rely on chemicals that harm the environment. You can entice a variety of voracious insectivores into your backyard, especially if you use some of our Backyard Habitat planting and building projects!

Procedure
Here are some symptoms to look for as you monitor your trees for insect infestations:
• Yellowing, browning, and spotting of needles and leaves.
• Reduction in size or change in shape of needles and leaves.
• Premature death of older needles.
• Production of lichens and mosses on affected trees.
• Abnormal branching patterns.

The following insect problems commonly affect trees in urban backyards: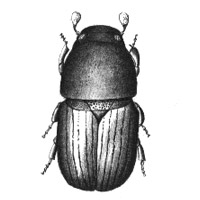 • Dutch Elm Disease: All native elms and many introduced elms are susceptible to Dutch elm disease (DED). It is almost always fatal to infected trees. Most elms in Canada have already fallen victim to the disorder. DED is transmitted from tree to tree by elm bark beetles, which tunnel under the bark, carrying tiny spores of the fungus Ophiostoma ulmi. The result is a sick-looking tree with shrivelled, brown foliage and deformed twigs. Abnormally small leaves appear on some branches or on the entire tree in spring. Affected leaves drop off prematurely. Diseased elms can die within two years.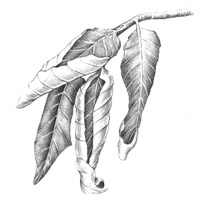 The best way to control DED is through prevention. Keep elms healthy, vigorous, and properly pruned. Other preventative measures include the use of chemical insecticides to control elm bark beetles. Chemicals may also be injected into the water-conducting system of a tree to kill the fungi. Unfortunately, such measures are highly toxic, expensive, and must be repeated regularly. As well, they almost always amount to a losing battle against the disease.

If DED is already present, it's not enough just to cut off diseased branches. Infected and dying trees must be swiftly and completely removed to prevent further spread of the disease. Wood from elms infected with DED should never be stored for firewood.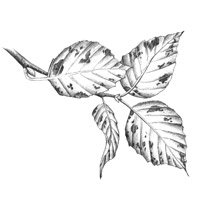 • Birch Leaf Miner: Birches are highly susceptible to leaf miner infestations. White or brown areas within leaves are caused by the larvae of the birch leaf-mining sawfly. While leaf miners can damage trees, they are in no way deadly. The most effective measure for controlling these tiny larvae is to remove and destroy affected leaves as soon as damage is apparent.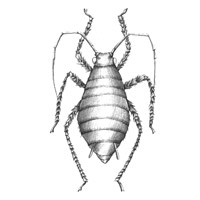 • Aphids: These small sluggish insects suck the sap of trees, especially maples. They cluster on the undersides of leaves and make them sticky with excrement, thereby blistering foliage and covering it with sooty mould. These infestations stunt and distort leaves, causing them to drop prematurely. Aphids are not only responsible for the spread of viral diseases; they also attract swarms of ants, which feed on their gooey excrement.

A number of companies now sell predatory insects in bulk. Among the insects that prey on aphids are ladybird beetles, aphid midges, and lacewings. See "Plant for Insects" for tips on attracting and conserving predatory bugs in your backyard.

To help control aphid infestations, hose down trees with a strong blast of water, or give them a dose of homemade bug spray: finely chop 10 to 15 cloves of garlic and soak them in 500 mL of mineral oil for 24 hours. Strain the solution and spray as is, or dilute it with water before applying.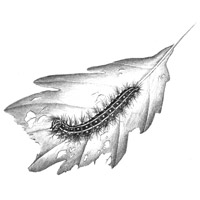 • Gypsy Moths: The male gypsy moth is light brown with large wings. The female is white with black markings on her wings, and is much larger than the male, but can't fly. Gypsy moths are found mostly in southern Quebec and Ontario, but also in Nova Scotia and New Brunswick. Gypsy moth caterpillars can be identified by six pairs of red bumps and five pairs of blue bumps on their backs. They munch on over 500 different tree and plant species, including oak, birch, and tamarack. These larvae are voracious feeders and can defoliate an entire tree in two to three days.

To find out if there are gypsy moths in your area, look for overwintering egg masses on various parts of trees, including trunks, branches, and bark crevices. It's important to inspect trees early in spring, just as they're starting to leaf out. Spray them with a sticky cleansing agent such as dish detergent, then scrape off the egg masses and immerse them in hot water mixed with household ammonia.

If the eggs have hatched, use tree bands to capture the caterpillars. Make the tree bands from strips of burlap about 40 cm wide, or long enough to wrap around the trunk. In the late afternoon, tie a band to each trunk with a string around the middle of the cloth. Pull the top down over the bottom half to make a trap for caterpillars climbing up the tree. Check tree bands daily and destroy any larvae caught in the material.

In extreme cases, spray with Bacillus thuringiensis (BT), a harmless organic spray that effectively controls leaf-eating caterpillars. BT is nontoxic to mammals and doesn't harm beneficial insects.

Gypsy moth eggs and pupae are often transported inadvertently by people. Next time you go camping, hiking, canoeing, or visiting a cottage, be sure to check your tent, backpack, canoe, or vehicle before coming home. Gypsy moths could be hitching a ride with you.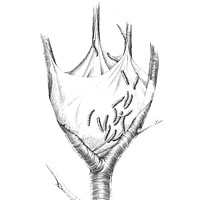 • Tent Caterpillars: The two most common moth larvae of this kind are forest tent caterpillars and eastern tent caterpillars. The forest variety is easy to identify. The larvae have dark brown bodies with broad bands of blue along each side and a prominent row of whitish keyhole-shaped spots down the back. They're found on broad-leaved trees across Canada.

Forest tent caterpillars are partial to trembling aspen leaves, but also munch on balsam-poplar, sugar-maple, red ash, mossy-cup oak, white birch, and various other broad-leaved trees and shrubs. You might even spot them on poles and fence rails and under the eaves of buildings during outbreaks. Forest tent caterpillars don't form a tent, but they do make a silken mat on the trunk or branch where they congregate.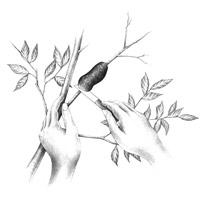 Eastern tent caterpillars - and their close relatives, prairie tent caterpillars and northern tent caterpillars - form silken tents in the forks of branches. These larvae can be identified by a white or yellow stripe down the back. They feed on the leaves of hawthorn shrubs and deciduous trees, especially apple and cherry. They can be found from the Maritimes to Sault Sainte Marie, Ontario, and in the southeastern corner of Manitoba.

In fall and winter, tent caterpillars make their presence known by bands of eggs laid by the female moth. An egg band encircles a twig and is covered with a dark foam-like substance. To get rid of the eggs, you can prune and burn the branchlets that contain them. If the eggs are on the main stem or on branches that should not be pruned, you can scrape them off with a dull knife. Applying mineral oil spray to the egg bands in late winter will also kill them.

Tent caterpillars move about by day, feeding on leaves and returning to their nests at night. To control them, wait until the larvae gather for the evening, then remove their nests and destroy them. In extreme cases, break nests open with a stick and spray with BT.

One more great way to keep these bugs in check is by using some of our Backyard Habitat projects to attract birds, many of which feed voraciously on tent caterpillars. A species of fly known as Sarcophaga aldrichi may also serve as a natural control. The fly lays its young inside the caterpillar, eventually killing the host.