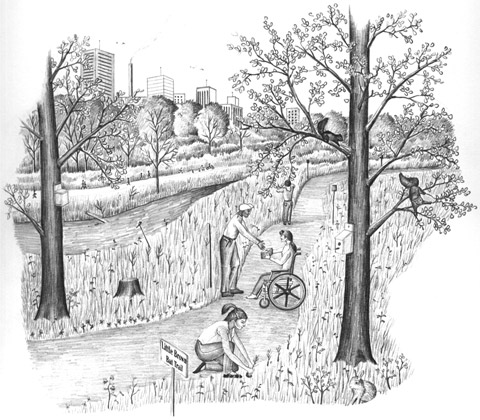 Background
Trails provide all kinds of benefits for wildlife and humans alike. They serve as links between different natural communities, and allow us to observe and learn about nature. By planting particular species of trees and shrubs, or installing nesting boxes, you can significantly improve trails for wildlife.
Place signs along a trail that identify and describe vegetation, wild animals, and other points of interest. This is a great way to educate the public about the importance of wildlife and habitat. You could create an interpretive trail in any number of places in your community: near a seniors' residence, outside city hall, on church grounds, or in a park.
Procedure
Improving a trail is a great way to get people working together, but it will require a fair amount of labour and maintenance. Here are a few tips:
Organize a planning session and a preliminary survey of the trail. Invite members of the community and ask them to join your project.
Once the preliminary survey is finished, decide on desirable improvements for the trail.
Draw up a timetable for the work.
Conduct a second, in-depth trail survey, making notes on existing wildlife.
Research what new species might be attracted to the area and what their habitat requirements are.
Tie ribbons to trees and bushes to mark the areas you wish to improve.
Use a different colour of ribbon to mark places where you'll be planting.
Before you start work, clear litter from the designated area.
Seek contributions of labour, equipment, or supplies from your community.
Ask local media to publicize your project.
Acknowledge sponsors and volunteers by posting a sign at the head of the trail.
To make an interpretive trail, put up signs identifying the plant and animal species within the habitat. If you can, laminate the signs so they won't be damaged by weather.