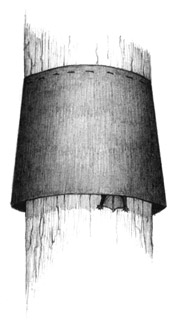 Background
Bats are important for biodiversity and are an excellent form of pest control. A single big brown bat can eat as many as 7,000 insects a night. Around the world, human activities have caused a decline in many bat populations. Half of the 16 species of bats in British Columbia alone are considered at risk. You can help these valuable creatures by constructing a simple bat roost.

Procedure
• Choose a tree or pole in a sunny "edge" spot. Bats need space for landing and taking off, preferably near water or the cover of trees.
• Wrap a 1-m-wide piece of tar paper around the tree trunk or pole, 2 to 5 m above ground.
• Nail the tar paper around the top edge, like a tight-fitting skirt. It must be snug enough to prevent water from leaking under the skirt from above.
• The bats will enter from below and make their home underneath the skirt. To regulate their body temperature, they can crawl around the tree trunk as the sun moves.
• If bats use your artificial roost, report your observations to Bat Conservation International.

Maintenance
Check the bat roost regularly for signs of damage.