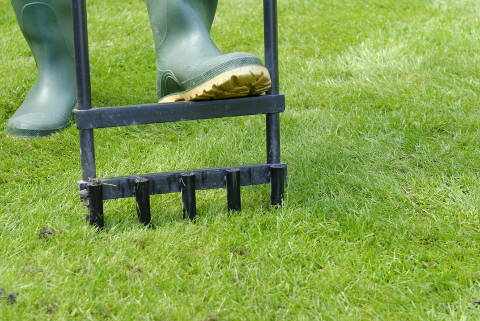 Background
One effective and easy way to help wildlife is to change your lawn care practices. Even if you choose just one of the suggestions listed below, both wildlife and humans will benefit. Did you know that an average lawn produces enough oxygen for a family of four? Or that leaving your grass clippings on the lawn increases soil fertility by up to 30 per cent?

Too often we over-fertilize and bombard our backyards with toxic chemicals, then scalp the grass to within an inch of its life. As a final insult, we throw away potentially rich fertilizer by stuffing overcrowded landfill sites with garden "waste" like grass and leaves.

At long last, however, lawn care practices are changing in Canada. In some parts of the country, there are now laws controlling lawnmower emissions, the disposal of garden waste, water use, fertilizer run-off, and chemical contamination. For example, in 1991, the town of Hudson, Quebec, passed a bylaw banning pesticides. The following year, that bylaw was challenged legally by two lawn care companies who argued that they had all the proper permits and that the pesticides were approved by Agriculture Canada. Nonetheless, the Quebec Superior Court ruled in the town's favour. Other municipalities in Quebec are now being urged to enact similar bylaws.

These days, homeowners across Canada are using all sorts of wildlife-friendly alternatives to lawn care. Ceasing to use chemicals that harm wildlife, reducing the amount of immaculately mowed turf, and planting native vegetation are just a few ways. The dry, windy climates and temperature extremes of Prairie cities, for example, make a good case for using native plants that flourish with little maintenance or water. Coarse native grasses can be left unmown, ensuring dense, healthy growth that chokes out weeds while allowing the grass to reseed itself.

This natural approach does not just save money and time; it increases wildlife diversity, prevents topsoil erosion, and cuts down on watering. Unmown grasses also absorb noise and remove airborne pollutants.

Procedure
Adopt one or all of the following low-maintenance lawn care suggestions:
• Use long-handled tools to pull out weeds without breaking your back or ruining your knees. If a bare patch is left where a weed was pulled, sprinkle it with grass seed.
• Rather than growing the usual turf on your property, consider a mixture of native grasses, fescues, and wildflowers such as daisies, clover, and yarrow. (Suitable mixtures differ from region to region.) Researchers find that such blends require less mowing, are hardy, drought-tolerant, and attractive to both humans and wildlife. Several companies are now selling this type of mixture in Canada.
• Plant ground covers. All sorts of low-growing plants and shrubs are available as alternatives to grass. Some, such as bunchberry and Solomon's-seal, grow well in shady areas, where grass usually does poorly. Be creative and integrate stretches of lawn with these low maintenance ground covers.
• Use organic fertilizers, such as grass clippings, compost, well-aged manure, and blood and bone meal. Natural fertilizers are best because they're slow acting, and you won't have to wear yourself out mowing.
• Never spray a wildlife-friendly lawn with pesticides. Instead, consider seeding endophytic grasses, which tolerate drought and competition from other plants. Some varieties actually resist attacks from aphids, cutworms, and other lawn-loving pests. Endophytes are tiny fungi found naturally in some wild grasses. They can also be bred into cultivated varieties.
• If your lawn grows on heavy clay soil or is packed hard from heavy use, it may need aeration or ventilation. For large areas, a rented lawn aerator will do the job. On small lawns, use a garden fork to perforate the soil repeatedly at a slight angle.
• De-thatch your lawn. Thatch is a compacted layer of organic debris such as roots and stems. A thin layer of thatch helps shade grass roots and retains moisture. Usually, earthworms do a fine job of aerating and removing thatch from lawns. However, if thatch becomes more than 1 cm thick, it should be removed with a heavy rake or de-thatching equipment.