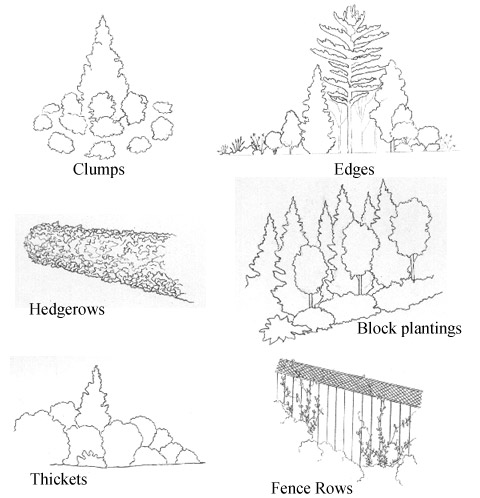 Background
Many kinds of planting arrangements are guaranteed drawing cards for wildlife. Some, like windbreaks and hedgerows, can be ambitious projects. Others, like edges, clumps, and thickets, are easy to establish in backyards, and very attractive to a wide array of wildlife. The size of your property, as well as the amount of free time and energy you have at your disposal, will determine the most suitable planting arrangement.
Procedure
Review the planting arrangements described below to find ones suited to your property.
Edges: Areas where one type of habitat meets and blends with another. They are extremely popular spots for wildlife because the two converging habitats create a distinct third edge habitat. Different species flourish in each of them. Edges can be large or small.
Hedgerows: Hedges that provide both shelter and passageways for animals to travel along.
Fence rows: Fenced borders between properties. They are usually long and impose extensive boundaries that cannot be easily crossed by many wild creatures, but can be improved for wildlife with suitable planting arrangements.
Windbreaks: These especially large hedges are made up of trees and shrubs that grow one to five rows wide.
Clumps and thickets: Clusters of trees, bushy shrubs, and plants, known as clumps, and dense bushes known as thickets, provide important food and shelter for wildlife, and stabilize the earth to prevent erosion.
Block plantings: Several rows of trees and shrubs planted parallel to each other. These are suitable on barren lots prone to erosion problems.