By Stephanie Bonner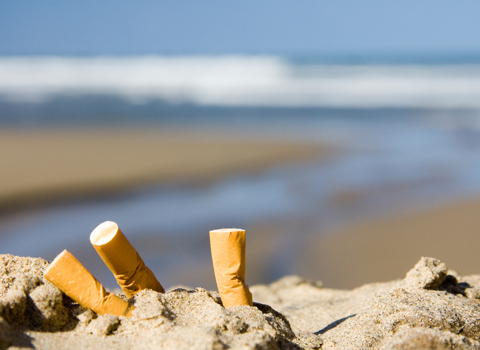 Ahh, finally! June is here! Time to embrace summer's warmth and cool off with a mad dash through the sprinkler. But have you ever wondered how people's everyday actions are affecting water quality before it gets to the sprinkler? In this month's Take Five, we're taking a look at a recent study from the Ocean Conservancy International Coastal Cleanup survey. The coastal cleanup is the world's largest volunteer effort of its kind for oceans; the results showcase what waste is most commonly found in the ocean as a result of human activities.
Just a Smoke Break
Even though the size of a cigarette and other smoking debris may be small, cigarettes and filters are the most prevalent waste item found during shoreline cleanups, more than double the amount of any other items commonly found on the beach.
Sitting at the Dock of the Bay
Recreational activities are the largest source of debris found along oceanic shorelines. Items found come from beach trips, picnics, sports and recreation or festivals near the water. Litter such as fast food containers, for example, easily wash into the oceans from streets, parking lots and through storm drains.
Out of Sight, Out of Mind
Legal and illegal dumping of domestic and industrial garbage, construction materials and even large household appliances contribute large quantities of harmful items into the oceans.
Splish-Splashing Around
Activities that take place on the water, like recreational and commercial fishing, cargo transportation, cruise ship operations and offshore drilling can place a big strain on water quality when the proper precautions are not taken. Items such as fishing tackles or hazardous oil spills will affect local wildlife.
Drain Woes
Antibiotics, syringes, diapers and a variety of hygiene products are most often added to our waterways through sewer systems. Flushing antibiotics down the toilet or washing away excess household products in sewers or down the drain are extremely hazardous.